Google Business Profile (formerly Google My Business) is an amazing tool that small business owners and nonprofits can use to market their business in their target area. With it, you can connect with potential customers, share updates to your profile, and see how customers interact with your business.
This guide provides everything you need to know to set up a Google Business Profile (GBP). You'll end up with a complete business listing on both Google Search and Maps—where potential customers can turn in moments of need.
Benefits: Why Should You Set Up a Google Business Profile?
Over 73% of consumers will trust a business after seeing that it has positive reviews, and 28% of local searches result in a purchase. (Source)
The simple truth is that every SMB and non-profit should take advantage of the Google Business platform. Leading brands in your industry are using Google Business to drive more ready-to-buy traffic to their website. It's a crucial piece of your local SEO strategy.
Your optimized Google Business profile will deliver more phone calls and website visits from clients who are already looking for what you offer. They know they have a problem—and they are looking for a solution (high buying intent).
Since setting up a profile is completely free, there's no excuse not to take advantage of the powerful impact it can bring to your business. Google Business Profile is not a substitute for your website. Rather, you should use it as an additional resource to give visibility both online and in search results.
What Type of Business is Eligible for a Google Business Profile?
To qualify for a Business Profile on Google, a business must make in-person contact with customers during its stated hours. – Google
This means you could own a brick-and-mortar business, a restaurant, a service business with a public storefront, or even a professional service without a public address (a "service area business"). There are a few exceptions to this rule, but not many. A seasonal ice rink or snow removal service can still set up a profile; just make sure to keep your work hours/days up to date.
So, if any of these sound like you, then let's keep going:
Local service business
Professional service with local or regional clients (if able to perform services in-person)
Restaurant
Healthcare office
Brick-and-mortar business location
Ineligible businesses include things like: rental (or for-sale) properties, vacant apartments, lead generation companies or agents, or any type of meeting at a location that you do not own.
You can read Google's full guidelines here if you have more specific questions.
Here are the 9 steps you need to take to set up an effective Google Business Profile:
1. Sign in to Your Google Account
First, you need to sign in to your Google account. Or, if you don't already have one, create a free account right here. It's as easy as entering your first name, last name, and asking for a new Gmail user name.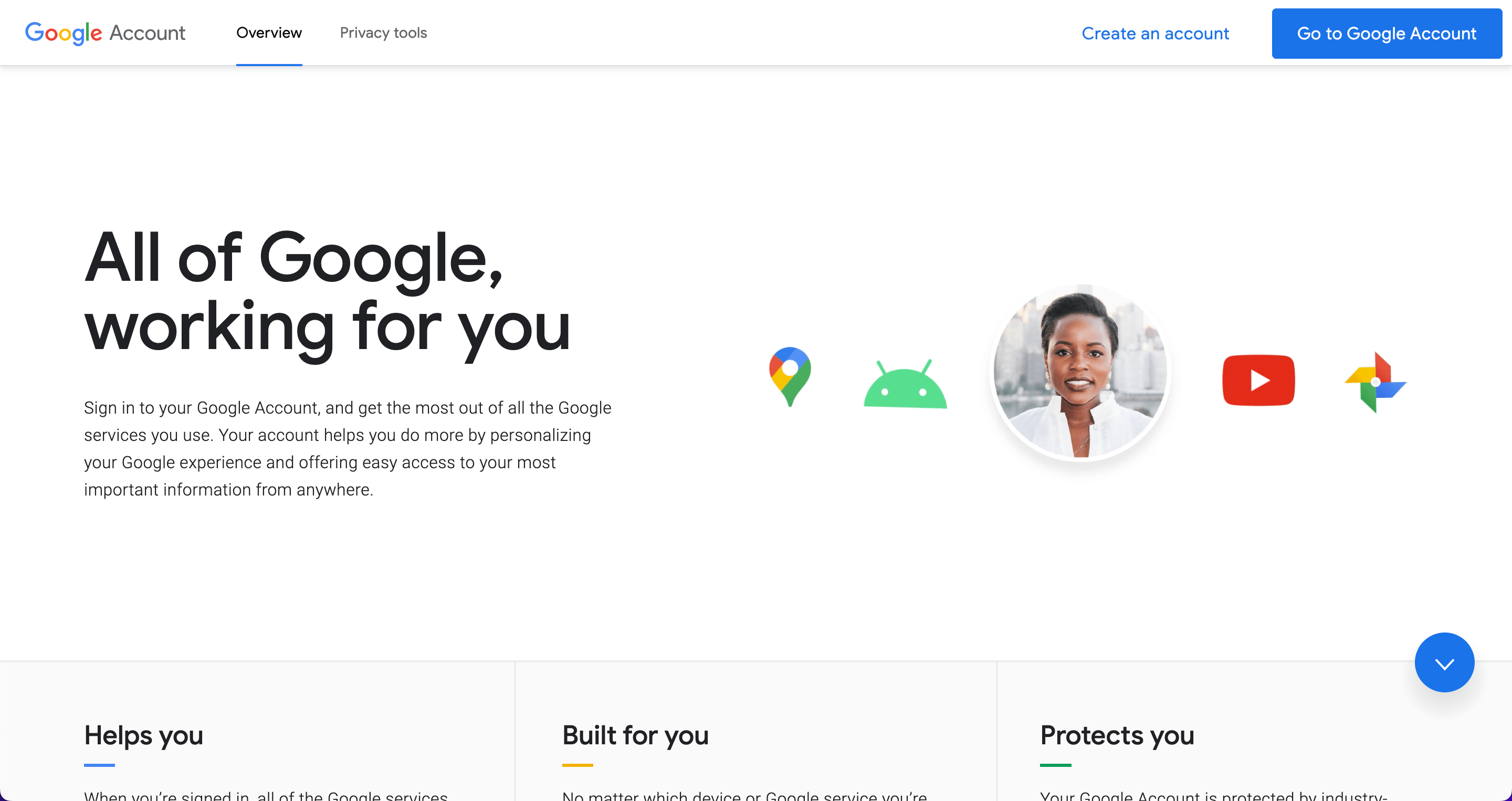 If you don't use Google for your work email, this is a perfect time to set up a free Gmail account to use for your business needs. Something like [email protected] would be a great way to separate your personal and business emails, and give a free backup email for any other needs like your website hosting, domain, etc.
Pro tip – Use an email with your official business URL (domain) if it's connected to a Google Workspace account. This will give Google extra confirmation that your a legitimate business, and speed up your verification process. For example, I used my work email [email protected] when I set up the Ragon Creative profile.
2. Log in to Google Business
Okay, now that you're logged into your Google account of choice, it's time to drop in and set up a Google Business Profile. Go to https://business.google.com/ right now, and double-check that you're still logged into your preferred account (email address) before moving on.
Choose the option to Add a Business Location and let's get started.
Here's that link one more time:
3. Enter Your Business Name
Search your business name and see if there is an existing profile.
If a profile already exists, then you want to claim it and verify your ownership to gain access. This could be from a customer or employee adding your business to Google Maps. Or, it might be tied to another one of your personal Google accounts.
If you don't see your business included in the Google database yet, then enter your official business name. Don't get fancy by stuffing in special keywords. Clarity is important here, and Google isn't a fan of sneaky SEO tactics.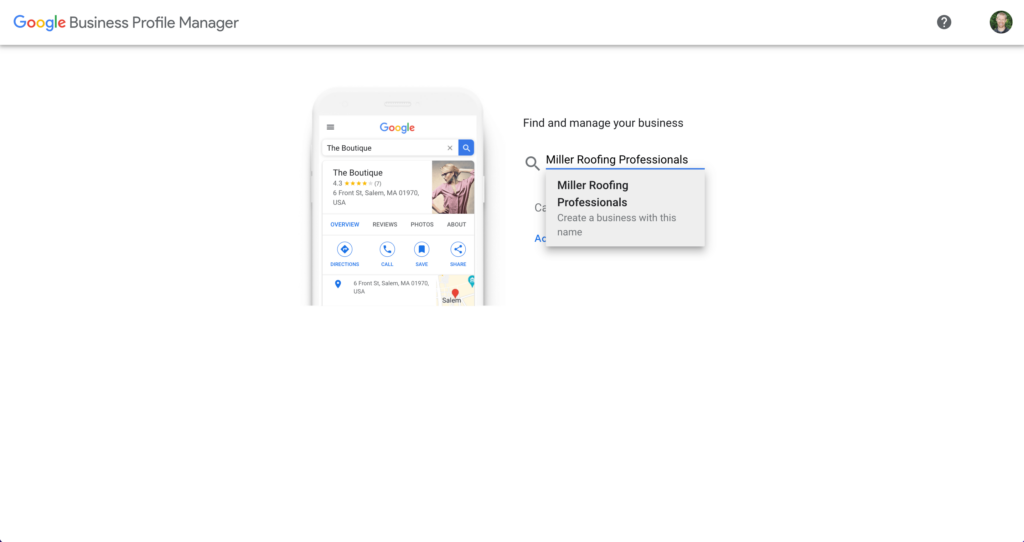 Bad example – Miller Metal Roofing in Asheville, NC
Good example – Miller Roofing Professionals
Pro tip – Create a doc to keep handy and use consistent NAP any time you're adding your business info on to an online profile or local citation (link to blog).
4. Choose a Primary Business Category
Find the most accurate option for your primary category. This is a simple step with large implications, so review competitors and similar companies to double-check your category. Consider the top search terms your clients will use to find you and pick best fit.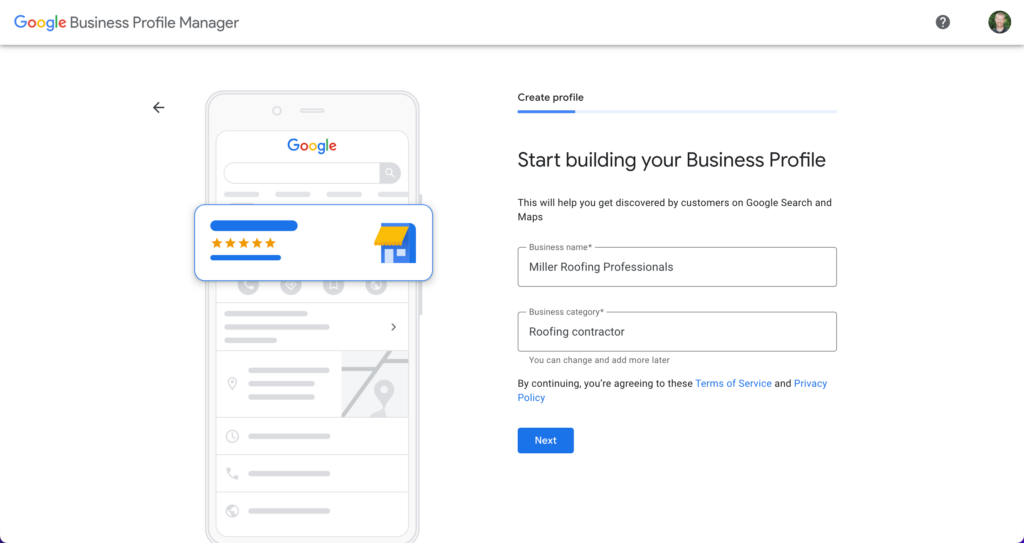 Bad example – Metal roofing repair
Good example – Roofing contractor
Pro tip – Look at your competitors to see what primary category they are fighting for.
5. Add Your Business Address
You'll need to use the official mailing address that you use for business purposes.
Remember to keep your NAP consistent everywhere. Google doesn't allow business owners to use a PO box, or the same address that has already been registered with another business.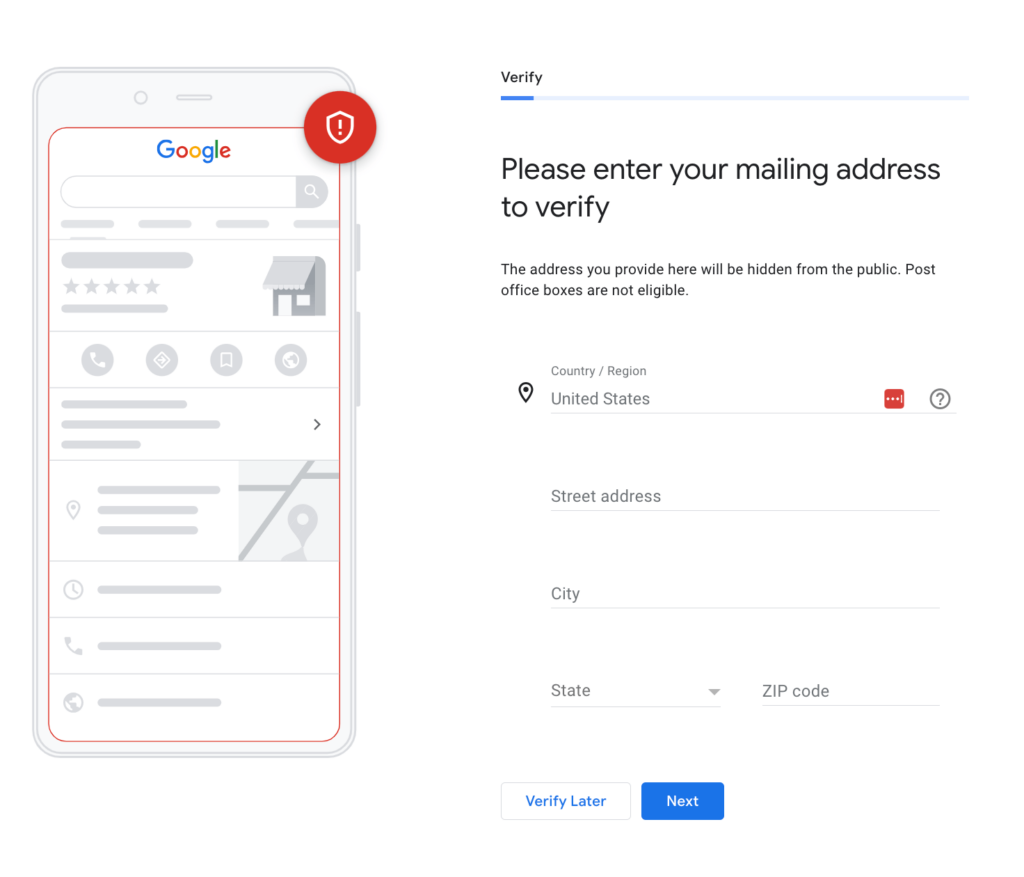 How to hide your address in Google.
Got a physical address (office, home, etc.) you don't want clients to show up at? Don't worry, Google has a plan for that. On the very next screen, make sure to click the "NO" option to not add a location customers can visit.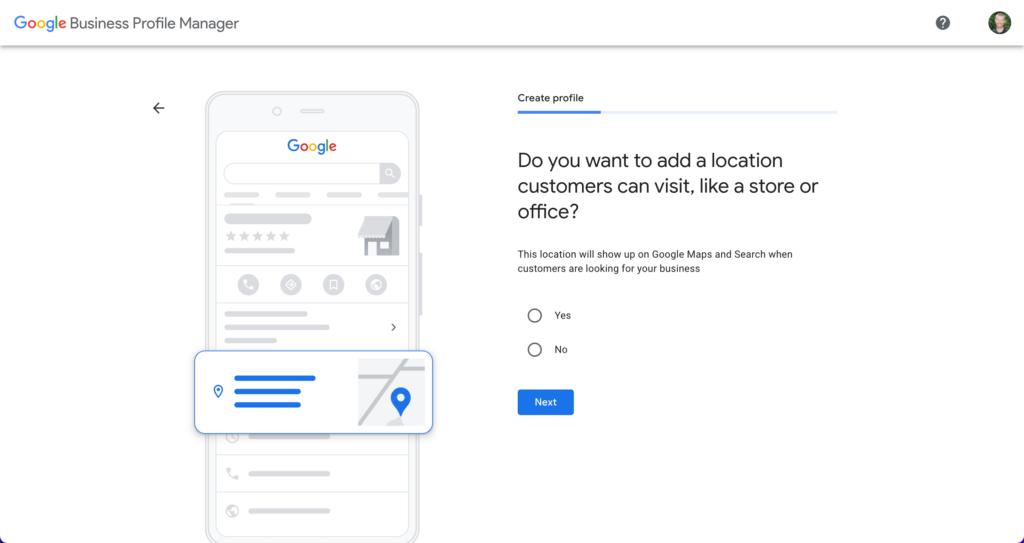 If you do have a physical address open to customers, then make sure you choose "YES" on that above screen. A physical location is a major local SEO signal that shows Google your business is worth showing searchers your business when they are looking for a solution in your area.
All else being equal, an HVAC company with a public office in your town will show up higher in search rankings than an HVAC company with no visible address (even though they claim to service your area.)
Pro tip – Choose to hide your location if you're only a service area business (SAB).
6. Specify service areas (only for service area businesses)
If you are a service area business (SAP), then your next step is to choose your specific service area. This is a list of locations that you are currently able to serve.
What is a service area business?
For example, if you're an Asheville plumber or HVAC pro, then you will only want to include nearby towns that you are willing to serve (like Waynesville, Weaverville, etc.). Don't include Boone if you don't have the manpower, vehicles, or time to take it on right now.
You can always add service locations later (via Google Maps).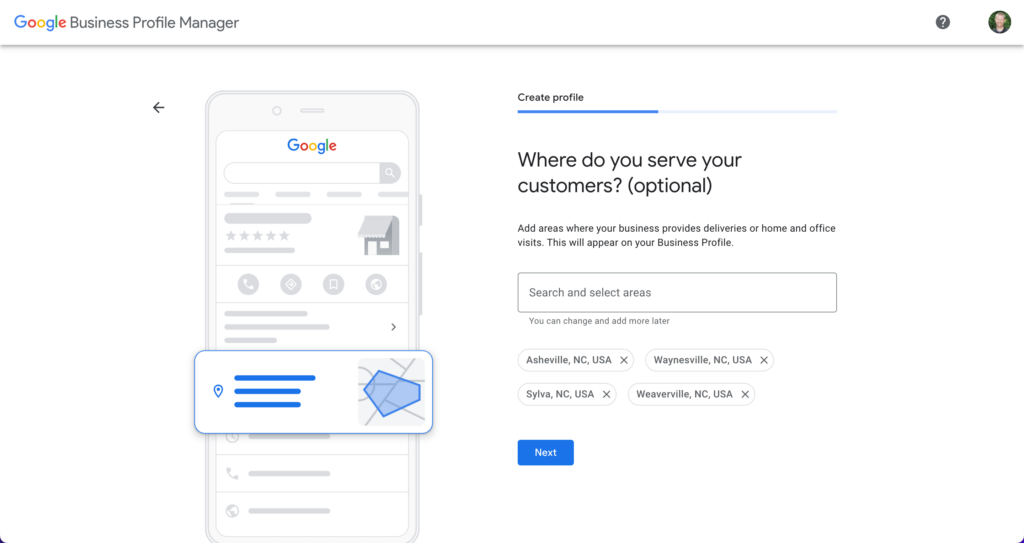 Pro tip – Be specific about the service area you cover. Major cities or counties are a great approach for most local service providers.
7. Add Your Phone Number & Website
Now it's time to add your business contact info. Use your primary business phone (hopefully a local number) and the full URL of your website. Include the https:// to confirm your site is ready with an SSL security certificate.
Pro tip – Always keep that NAP (name, address, phone number) consistent on other citation listings and social platforms.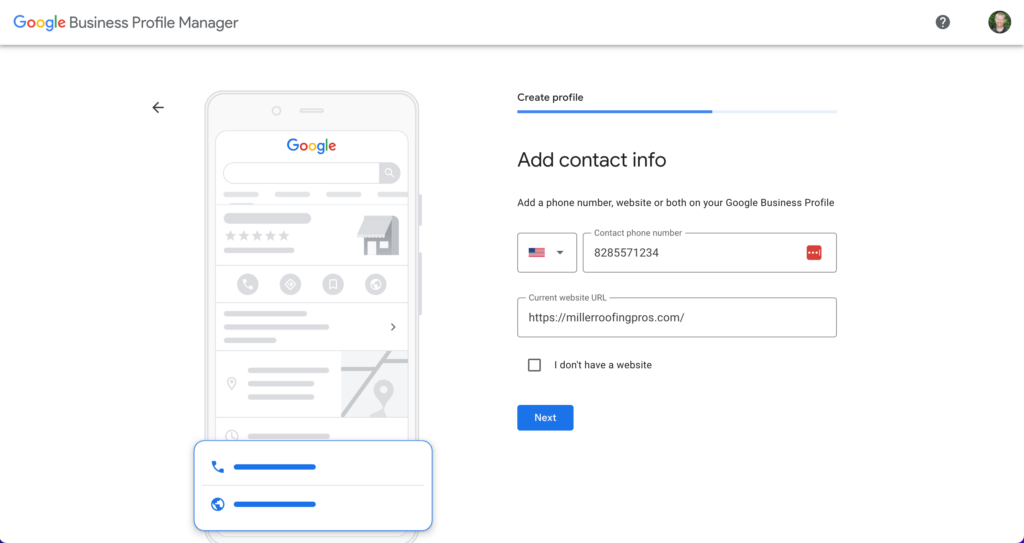 8. Complete Your Listing
You need to complete every area of your GBP profile.
The simple truth is that complete and accurate listings get 7x more clicks than businesses with missing info. And, you'll be 70% more likely to attract location visits. (Source)
Add your services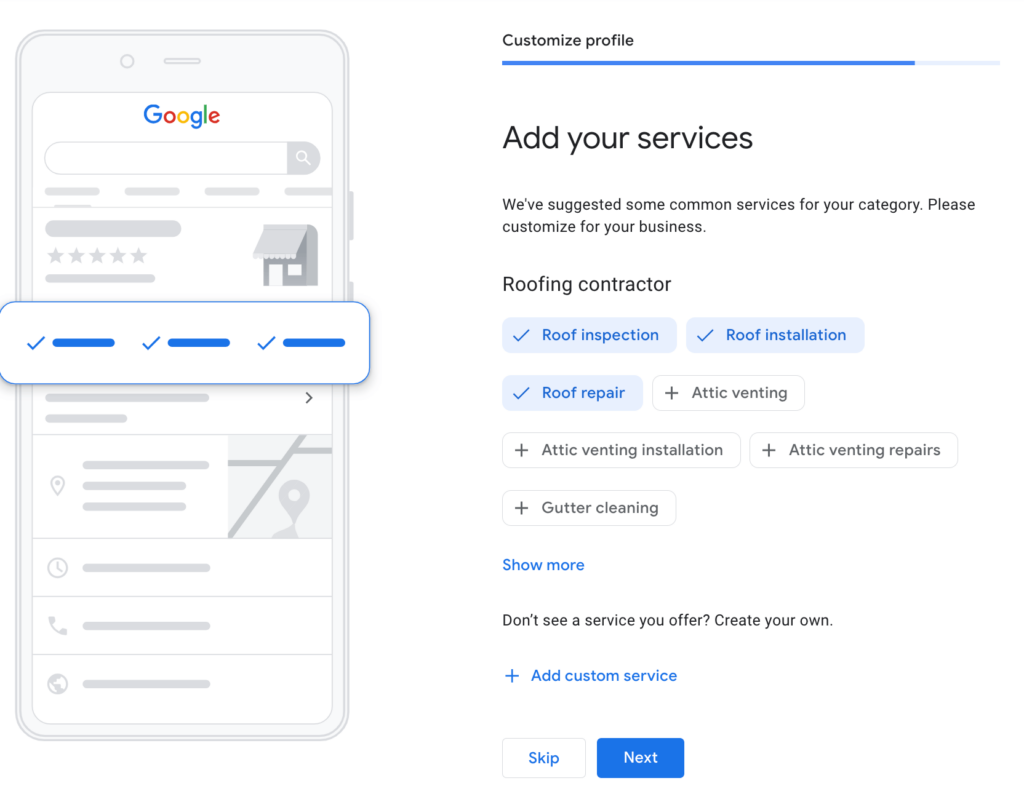 Pro tip – Use every-day search terms and pain points your clients use in their questions (avoid technical jargon).
Add business hours
Google needs to know your hours of operation, so they can include your business in local searches during those work hours. Make sure they are current and cover every time of the week that you accept phone calls.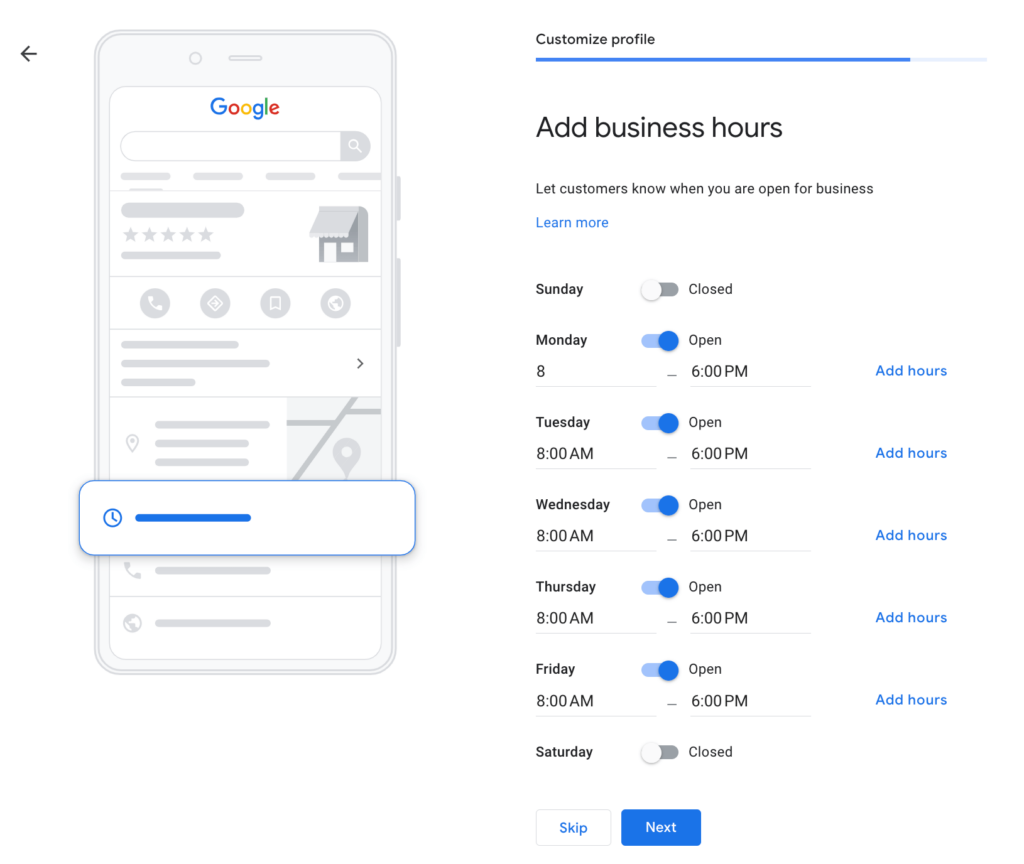 Enable Google My Business messaging
Turn on Accept Messages in the GBP platform if you're able to manage them. This enables potential clients to reach you via the chat feature. If not, leave it off for now until you get more comfortable with the platform.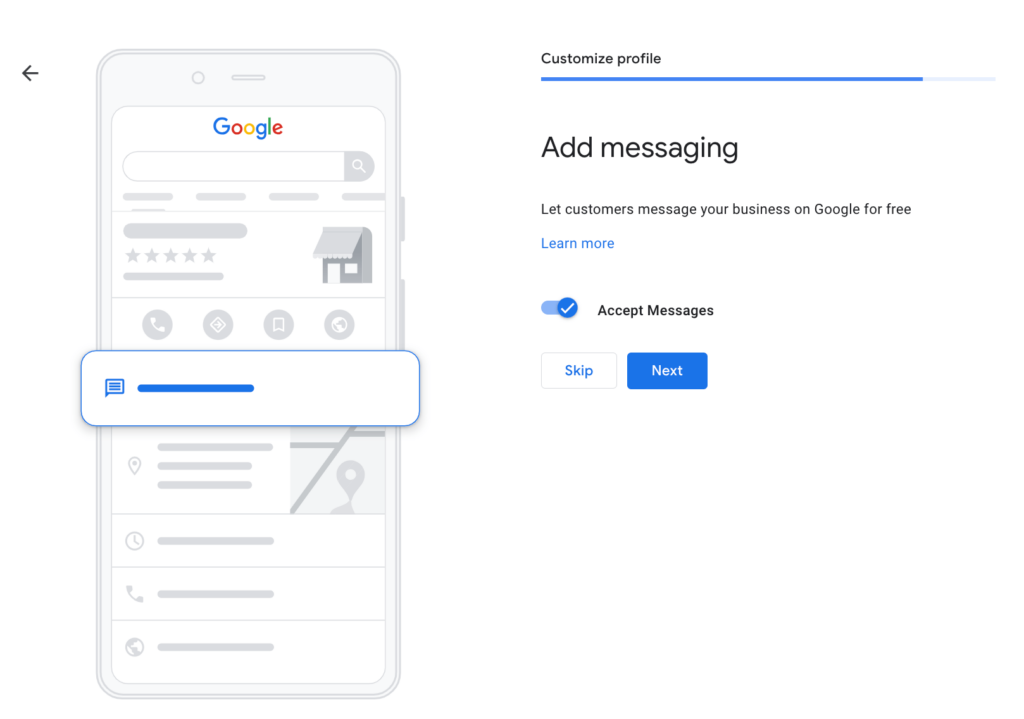 Add a business description
Your business description can help the best clients stick to your profile like glue—or run the other way.
"Knowing how to write a strong Google Business Profile description can seriously elevate your local search presence. It's the search equivalent of your elevator pitch, outlining your credentials and spelling out why a consumer should choose your business." – Brightlocal
Google only gives you 750 characters, but that's a lot of space to introduce a few key things about your business. I recommend focusing on a combination of these areas (without stuffing keywords):
Your primary business category (type of business).
Something to show your experience (year founded, niche clientele, etc.).
Why you are unique among other options in the area?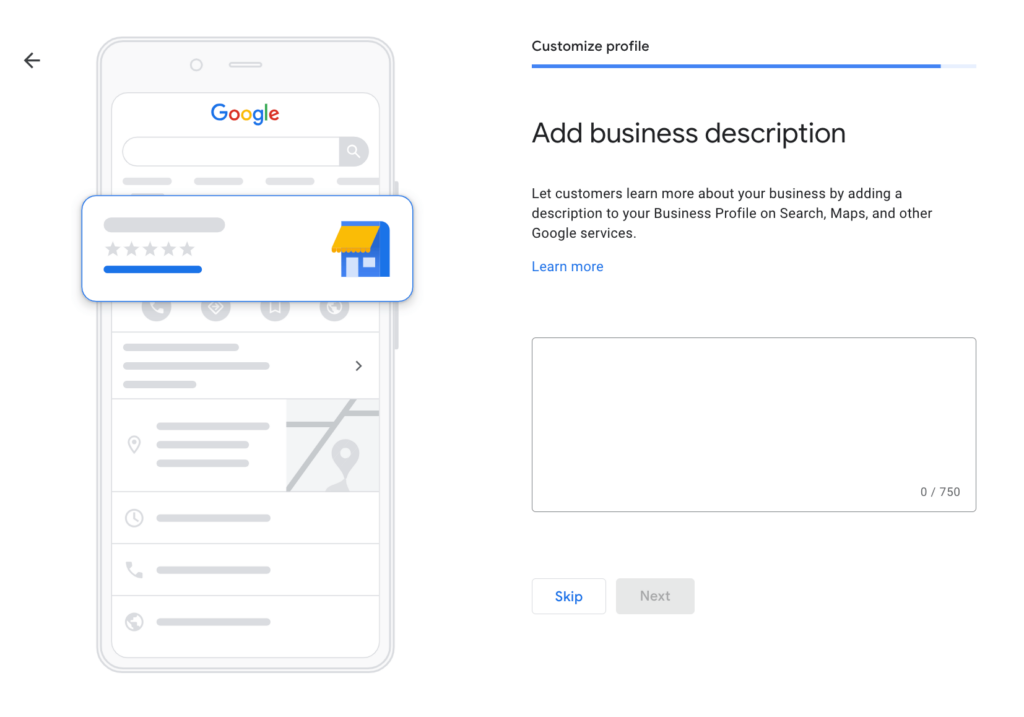 Pro tip – Revise this annually as you refine your target customer and use language that reflects their frequently asked questions (and highlights your unique selling points).
Add a business logo
Use a full color logo (with background) that is sized to meet the 720×720 pixel maximum.
Add a cover photo
Upload a cover photo that fits nicely into the 1080×608 pixel header box. Don't go crazy with a cluttered design. A high-quality photo of your work is a perfect idea here.
Add an opening date
It never hurts to remind everyone how long you've been doing business successfully, right?
Add attributes
This is where you can share a few unique items that help you stand out from among your local competitors. Does your business provide wheelchair access, or were you establised as a black-owned or female-owned business?
Or, if you require a scheduled meeting or consultation, add that info in this section.
9. Verify Your Listing
Your local GBP listing won't be visible (findable) until your business verification is complete.
Verification allows us to confirm that you are the rightful owner of the business, so that you have permission to manage your Business Profile. Your security is important to us and we don't want anyone else but you or your approved managers making updates to your profile. – Google
Common verification options include snail mail postcard, email, or an automated phone call. Choose the best one for your communication flow and watch for that verification code like a hawk. You don't want to repeat this process again, just to set up a Google Business Profile.
If you go the email route, watch for the code to arrive from this account: [email protected]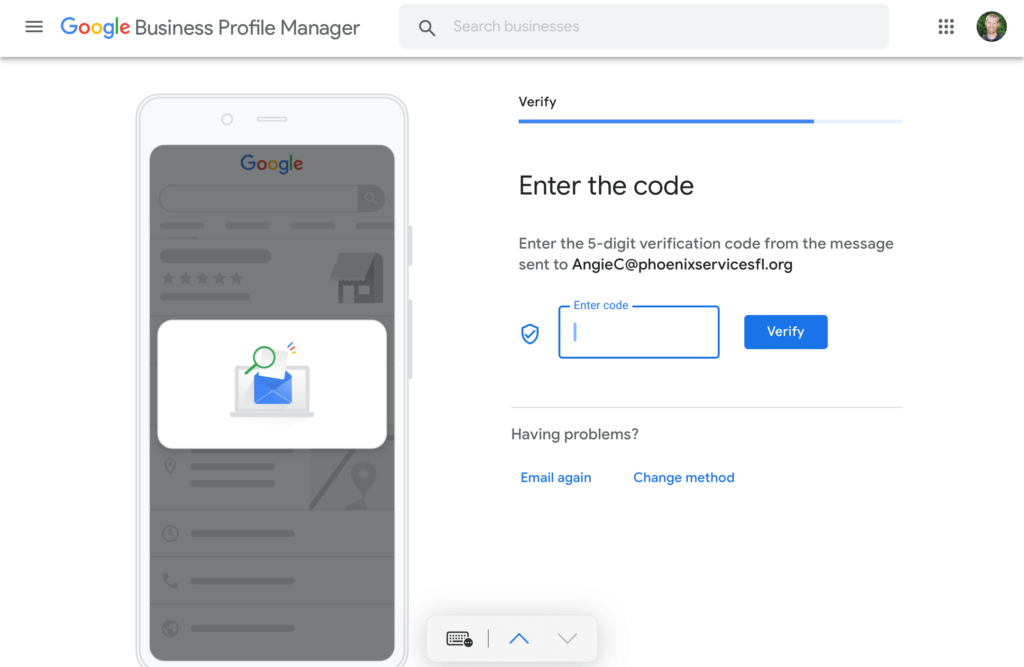 Unfortunately, suspensions have been increasingly common (and sometimes incorrect). Here are a few of the leading reasons that you might not approve your business listing.
Pro tip – If your profile gets suspended, then apply for a Google Business profile reinstatement ASAP. First, make sure there are no duplicate profiles of your business floating around. Then, gather a couple of official documents that prove your business address and ownership (like your Articles of Organization or LLC registration documents).
5 Tips to Use Google Business More Effectively
1. Add Photos & Videos
Did you know Google Business Profile listings with 100 images or more get 1065% more website visits? (Search Engine Land)
Add a few high-quality, original photos right away. Team members, clients, exterior photos of your building, and finished projects are great places to start. Hopefully, customers will share additional business photos, but you don't need to sit on your hands until then.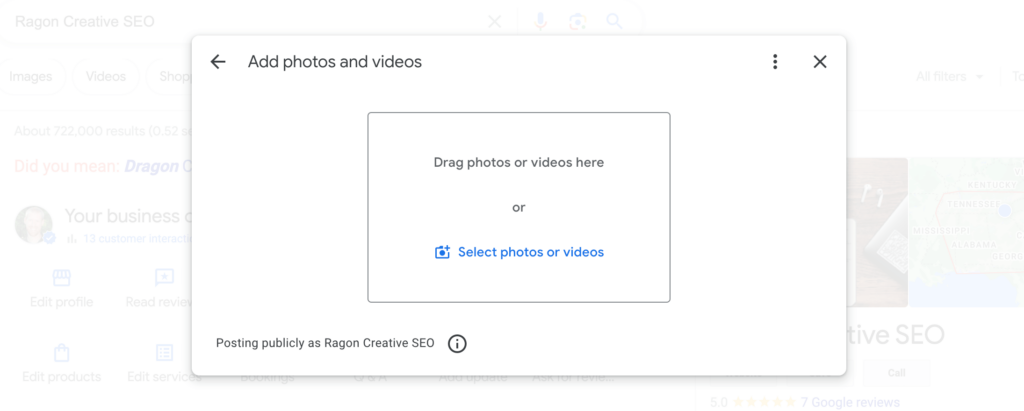 2. Get More 5-Star Reviews
Get your first 10 five-star reviews as soon as possible.
Then, set a long-term goal to build up more total reviews than your local competitors. According to the 2023 Whitespark Local Ranking Report, positive review signals are one of the best ways to climb the Local Pack rankings.
Great reviews provide the social proof needed to win over customers who are tired of hearing wornout marketing taglines.
Thankfully, the search giant provides a quick-link to share your review form. Text and email this link to every satisfied customer or partner you work with. The Google Maps app is the fastest way to share your profile for reviews.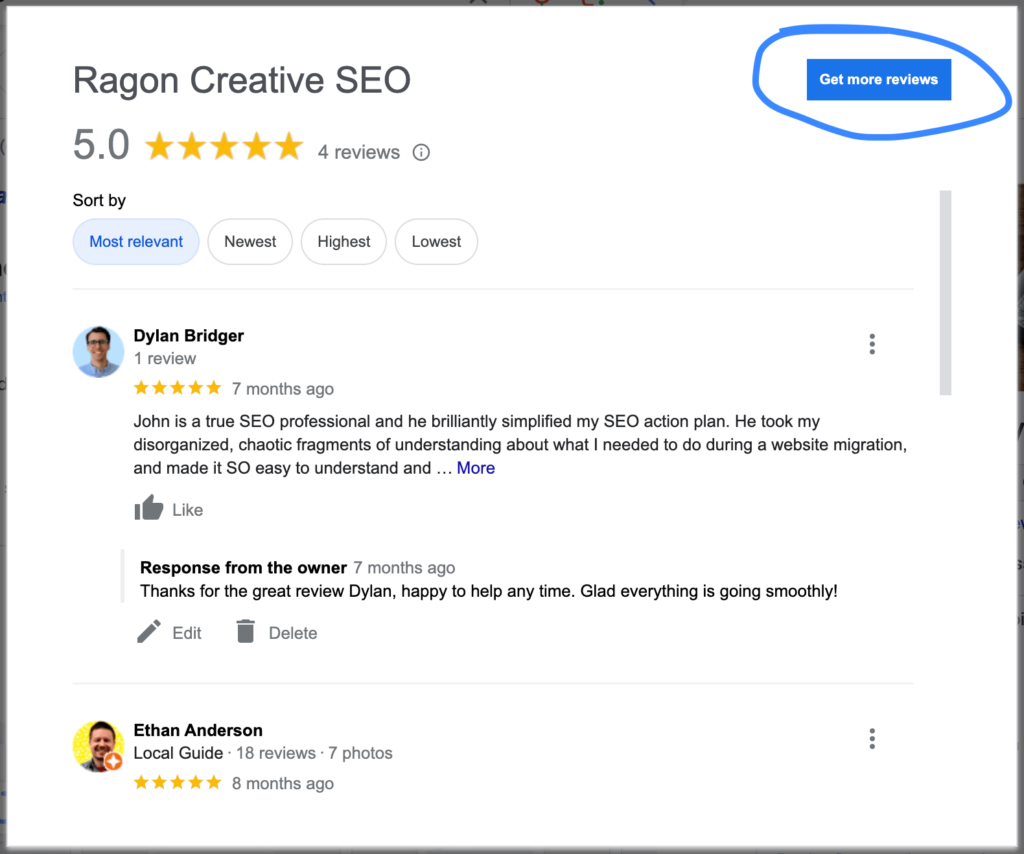 As always, make sure to respond to customer reviews as soon as possible—even the negative reviews. Earning more positive reviews is the best way to pre-empt those bad reviews that will eventually come.
Pro tip – The Google Maps app is the fastest way to share your profile for reviews.
3. Download the Google Maps App
Download the Google Maps app to your phone. Google began using the Maps app in early 2023 as the primary dashboard for Google Business, so this is the best way to make edits to your listing week-to-week. You can post business updates, edit holiday hours, and even manage multiple Google Business Profiles from the same account.
Here is where you can find it:
Google Maps in Apple App Store
Google Maps in Google Play Store
Here's a screenshot of a Google Business Profile we manage (from inside the Google Maps app). It's got nearly everything you need, right on your iPhone: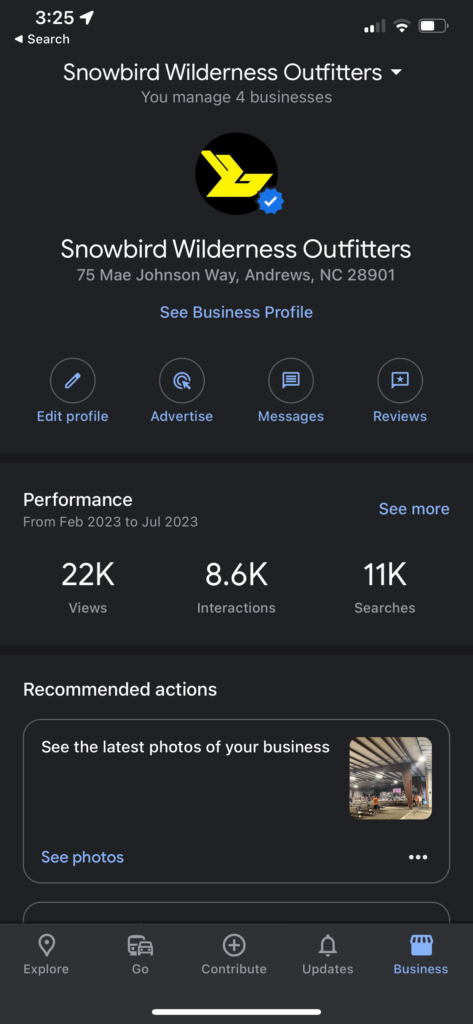 4. Invite Team Members
You're going to need help from other team members or an SEO agency to help manage your Google listing.
Depending on the settings you allow, they will be able to add updates (posts) and images for the business. They can also reply to any reviews, chats, or questions from potential customers. Here's how:
Search your business name in the Google search box.
Click on the 3-dot menu button.
Click on Business Profile Settings.
Click the Managers option.
Here's a screenshot to help speed things up.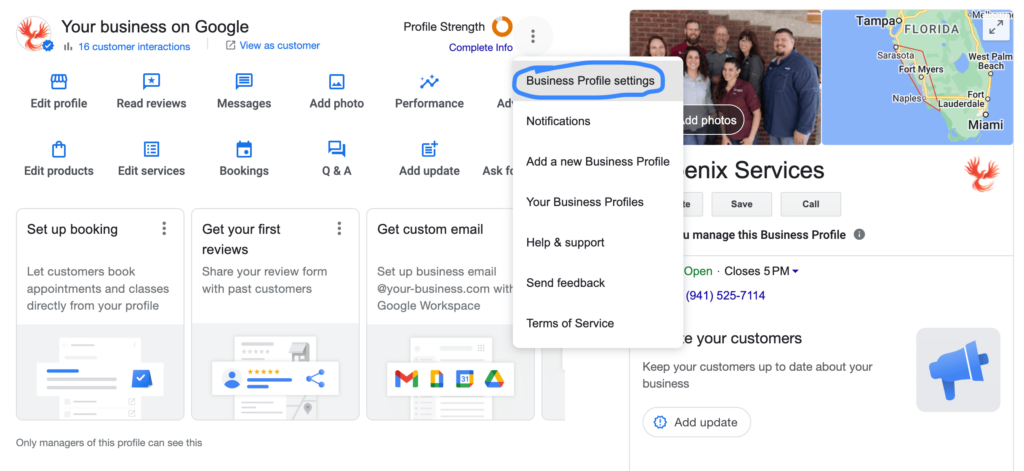 5. Add Weekly Updates
Start by adding a weekly update, but make sure it's high-value for your ideal customer. Don't waste their time (and yours) with pointless updates.
Pro tip – Always add a clear CTA (call to action) button that fits the intent of the content. Give them a quick way to take the next step.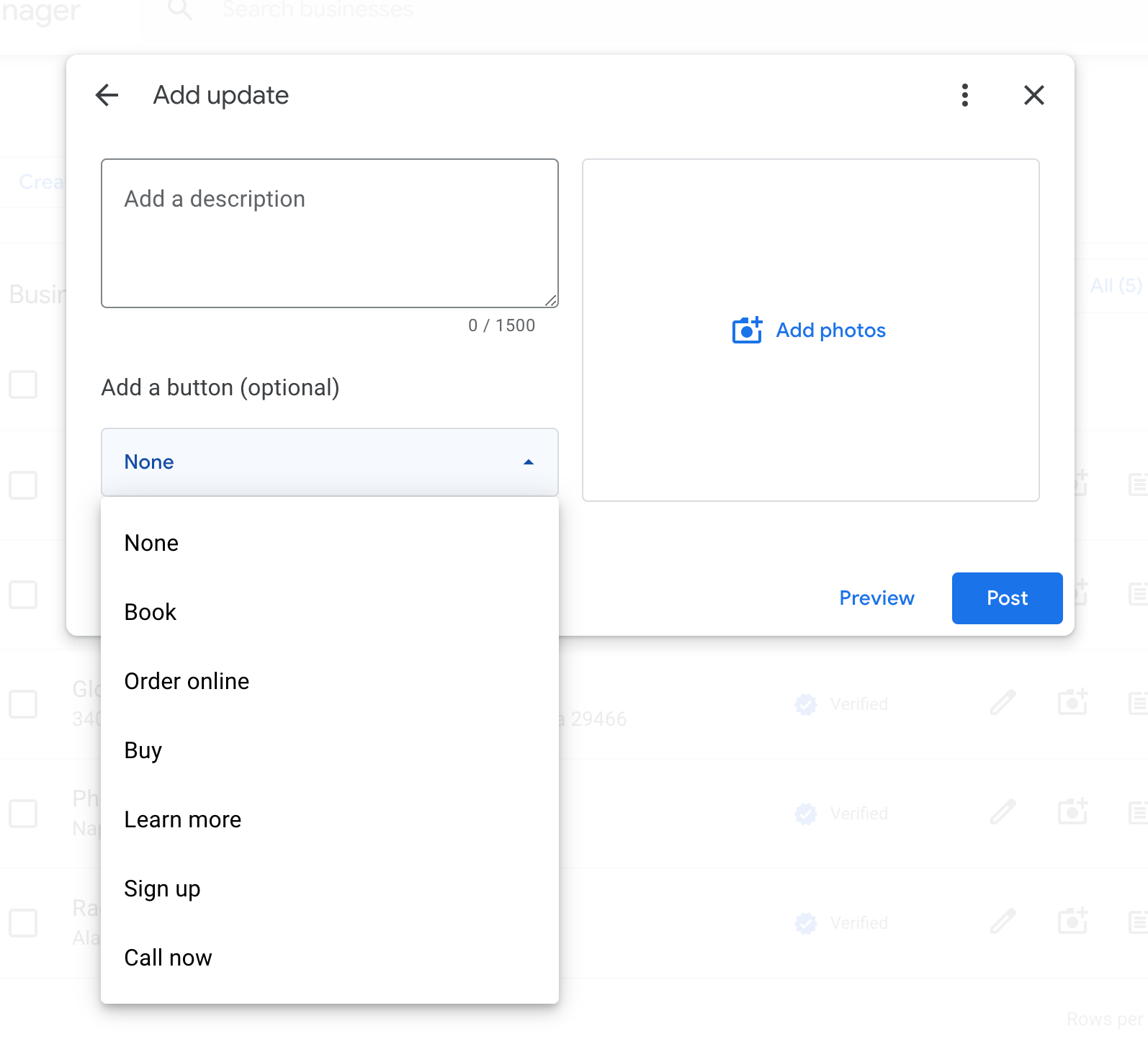 6. Keep Your Business Info Updated
The biggest mistake business owners make is forgetting to keep their profile info current. You need to keep your profile updated if you expect to gain any traction in organic search.
Customers need to know your basic business details (like your operating hours), so make sure you update any changes as soon as possible. We recommend that every Ragon Creative client set a monthly reminder to review their Google Business Profile (just in case).
Pro tip – The Google Maps app makes this super-simple.
Speed Up Your Local SEO Growth
Our SEO team at Ragon Creative is very familiar with Google's guidelines and ready with a proven process to improve your search ranking in the local pack. Google Business is a powerful marketing tool. Boost your organic traffic and get more leads by contacting us today.
If you're just looking for help with your Google Business profile, check out our quick-and-simple Google My Business Optimization service.