I'm going to teach you how to add a manager to Google My Business (now Google Business Profile).
The simple truth is that you can't keep all of your info and marketing tactics humming along by yourself. Sooner or later, you're going to want some help getting everything done. You don't want potential customers getting confused over your outdated hours of operation or list of services, right?
Google My Business (GMB) is a powerful tool, but only if you have a rock-solid plan to keep it updated.
Unfortunately, most small business owners don't maintain their Google Business details because they are too busy running the business. They don't even know it's possible to add a team member to help manage the profile.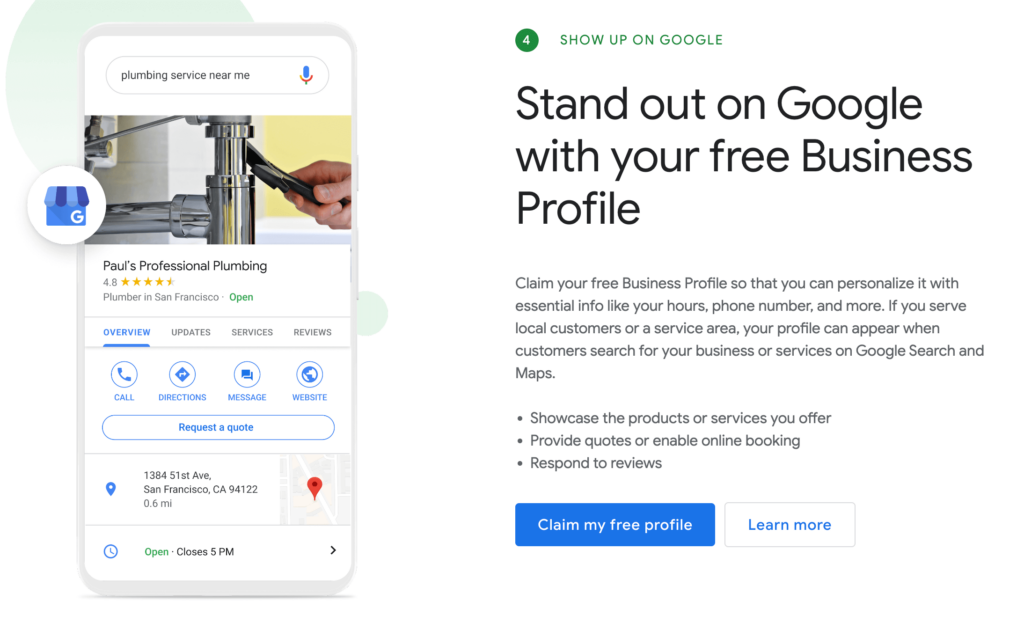 How can you add Manager to Google My Business in 2023? (8 steps)
Here is how you can share access to your Google Business Profile with a coworker, freelancer, or local SEO agency:
1. Sign in to Your Google My Business Account
First, make sure you're using the Google account attached to the Google account that is the primary owner of the Google Business Profile.
Then, search your business name on Google.com. Yep, just "google search" your company name. Make sure to search for the exact name used in your Google Business Profile. I've run across companies that didn't show up when I left off a word or two.
If you're logged into the primary ownership account, then your business dashboard will now be visible.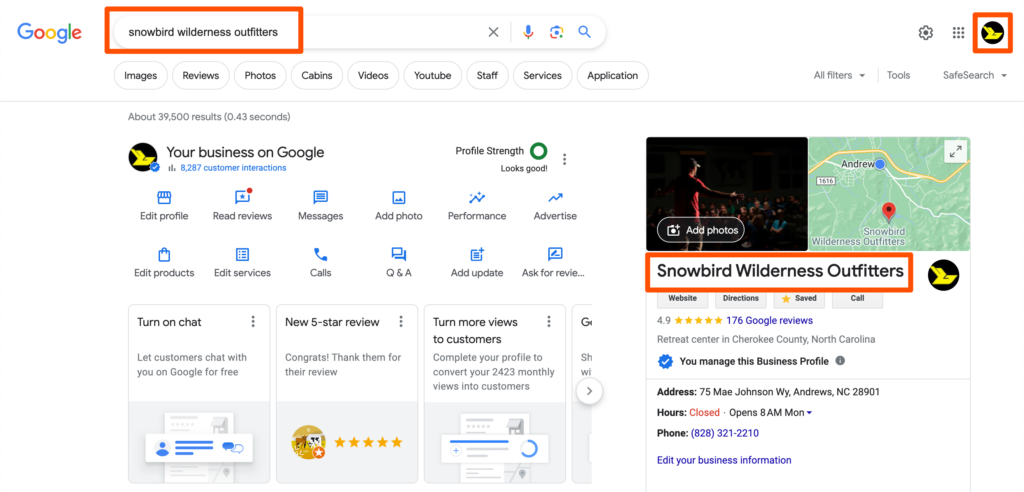 2. Click on the 3-Dot Menu Icon
This menu icon is located roughly at the top right of the search results section (middle). After clicking it, you'll see the drop-down menu you need to move forward.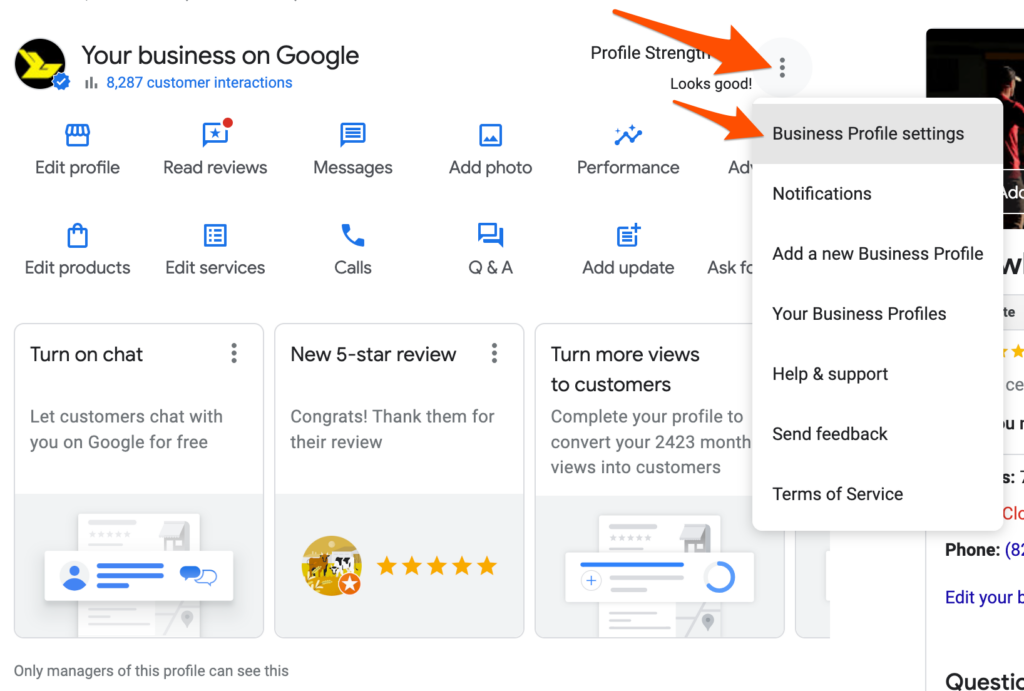 3. Select the "Business Profile Settings" Tab
Choose the "business profile settings" option in the drop-down menu and keep going.
4. Click on the "People and Access" Button
Here, you'll see a list of active owners and managers (by email account) of your Google Business listing. You can "add, edit, or remove people's access" here.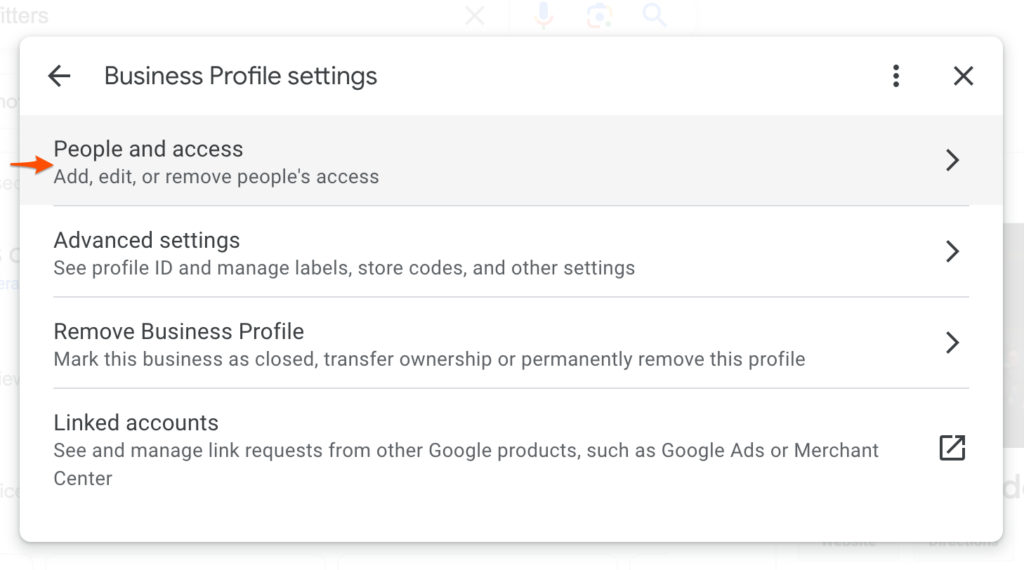 5. Click on the "Add" Button at Top
There will be a silhouette icon with a "+" simple to "Add" an approved manager to your GMB profile. Click this add option to open the next step.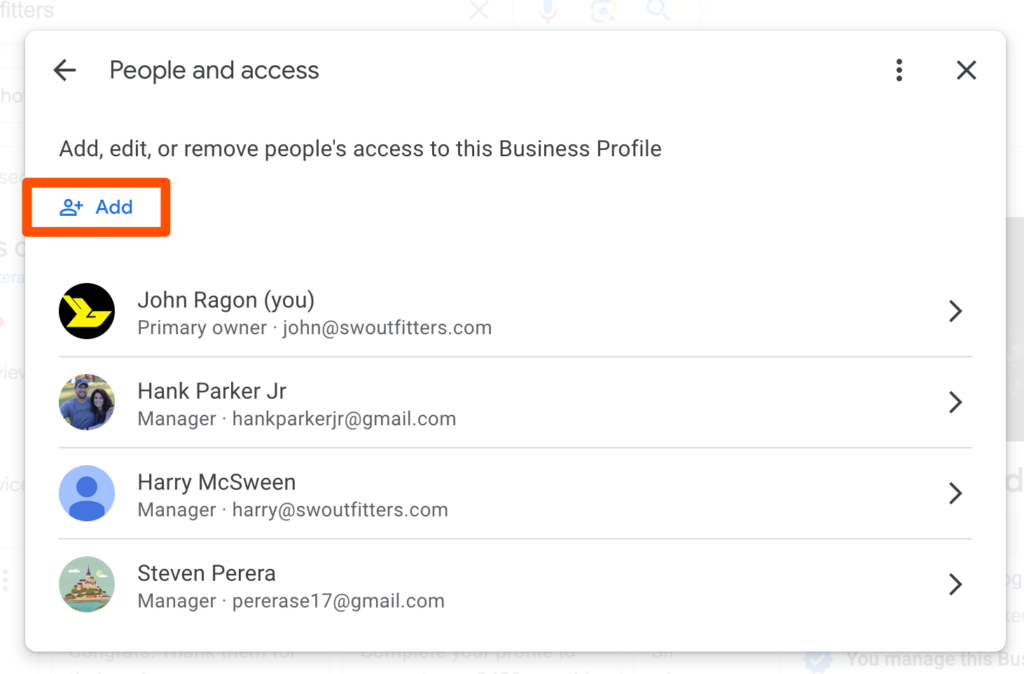 6. Enter the New Manager's Email Address
Ok, now we're getting somewhere. Paste your new manager's (freelancer, agency, or in-house marketer) email into the "Email address" box.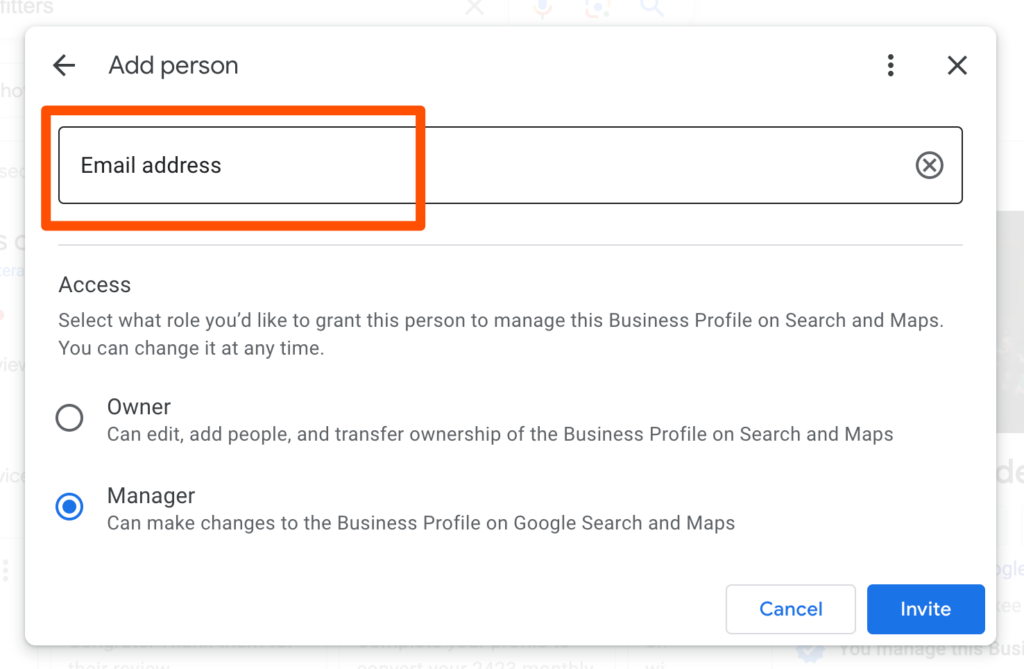 7. Select the "Manager" Role
Now, you've got the option to choose what level of permission you want this new profile manager to have access to. Usually, the "manager" option is plenty unless you are delegating full control of your online presence to someone else.
Here are the 2 access levels available for managers in GMB:
Owner — If you choose to make them a primary owner, they "can edit, add people, and transfer ownership of the Business Profile on Search and Google Maps."
Manager — If you provide the manager level of access, they will only be able to "make changes to the Business Profile on Google Search and Maps." (And not add or remove other Google Business managers.)
Your new manager will be able to edit your Business Profile on Search and Maps. But, don't stress out too much over the correct access level—you can change their permission level at any time. Both levels of access enable the team member to edit the core areas of your l:
Business address
Additional business locations
Responses to reviews
Business categories
Business posts
Answers to questions
Your profile photo and various location photos
8. Click On The "Invite" Button & Send Invitation to the New Manager
Google will send a notification email to the new manager as soon as you hit that "Invite" button. But, check with them personally to make sure it has arrived. Once they complete the email verification process, they will be ready to start optimizing your Google Business Profile.
Establish Expectations for Ownership
Now, it's time for you and your new Google Business manager to set some basic guidelines for how you want to optimize and use your profile.
A simple SOP (standard operating procedure) document will go a long way toward helping you get found on the largest search engine around. Clear business roles enable faster response times to reviews, more accurate business settings, and Google Business Profiles that support your goals.
Most marketing agencies will have a documented SOP (process) for responding to customer reviews. So, make sure your communications manager reaches out to connect with them. Slowing down to record a couple of steps might save you serious pain in the long run.
Need a Hand Managing Your Google My Business Profile?
We save local service companies countless hours of detailed work by optimizing and managing their Google My Business profiles. But, you already know it takes more than a Google Maps listing to attract new leads. Ragon Creative has the local SEO experience (and strategic process) needed to make sure your digital presence is growing your reach!
Are you ready to start using SEO to grow your local business?
Learn more about our Google My Business Optimization service.
Click here to get your free SEO Roadmap strategy call—and find out if you're a good fit for our services.