You can't make everybody happy, 2020 is proof of that! But what's the best way to overcome a bad Google review and soften the blow? Here's a case study of how we tackled a terrible Google review during the pandemic. Start now with this plan below, and double your 5-star reviews in under 30 days!
Reviews on Google (and other places) matter to your bottom line. A recent study showed that 87% of consumers read online reviews for local businesses in 2020. That percent is raising every year. It matters what people say about you!
Google reviews impact to your bottom line.
Back in May 2020 (COVID-19 year), we got a pretty scathing review on Google for our non-profit summer. It was bad enough that I don't want to show the whole thing here. We had to cancel a few weeks due to COVID-19 and they weren't happy with how we were handling refunds for everyone. It was a 1-star review for the record books.
If you've been in business for more than a few months, I bet you've received a similar one. Sometimes, there are ways to work with customers to improve a bad review. But not always.
They dug deep and attacked our character, claiming we didn't hold true to our mission. I knew our office had bent over backward to help everyone, and 99.9% of people gave us a raving response of gratitude. We were doing everything we could to serve people, keep paying our staff, and stay around another year.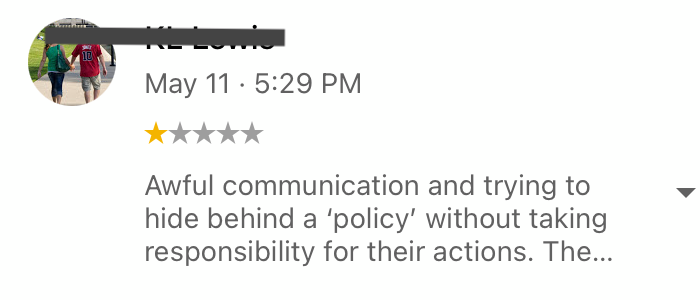 She wasn't willing to work with us and that review wasn't going anywhere. Her claims were emotionally charged and not accurate, but they still stung.
Bad reviews are going to happen.
Here's the thing, bad reviews are inevitable. Your employee is going to have a bad day or a delivery won't arrive. Other days, your customers will miscommunicate or get a speeding ticket on the way to your restaurant. There are a million reasons why someone might not give you a 5-star review on any given day.
It's not fun to hear clients talk about your service being slow, communication not on point, or prices being high. True or not, those words affect your future growth.
Perception is reality—especially in today's digital world.
There are hundreds of places for your customers to leave a review: Google, Yelp, Facebook, Urban Spoon, Better Business Bureau, etc. The list goes on and on. How are you supposed to keep up with all of it, just in case?
People think twice before choosing a business with less than a 4-5 stars.
There are always higher-rated options down the street. The important thing is to have a strategy before it happens. You don't want to be caught without a plan.
How do most businesses respond to a bad review?
Most businesses are forced into a knee-jerk reaction when a bad review hits their Google profile. That's a recipe for disaster.
Don't force yourself into a rushed decision when the reputation of your business is on the line. Plan a way to respond quickly and humbly, with a genuine desire to serve.
Most business owners feel pressured to convince them to change their mind with a gift or refund. That's not a long-term solution. It's not repeatable–or workable.
We needed something that was more than just a bandaid.
In our situation, it was clear this lady had made up her mind to be unhappy and money wasn't the issue. Our hope was to fix the root issue and build an asset that would help us keep growing and pursuing the mission we started with 25 years ago.
Soften the sting.
Since our bad review wasn't going anywhere, we leaned into the 25 years of trust we had built. Thankfully, we serve some of the most loyal and grateful churches and families I've ever met.
The best way to reduce the reputation sting from a bad review is to balance it out with 5-star reviews.
When potential clients see your business has 137 good reviews and 2 bad ones, they're going to see through the fluff.
But here's the thing, you're not guaranteed raving reviews just because your business is the best around. At Snowbird, we serve 200 churches and schools, which total nearly 12,000 people (every year).
We only had a measly 20 Google reviews when our 1-star review hit. That didn't make for a good ratio.
Reputation and trust matter, and it's vital that your business can show that trust online. Word of mouth is important for your local business, but potential customers are doing more research than ever before. They're considering your business long before you hear from them.
Thankfully, customers are getting more generous with their review habits. According to Bright Local,
72% of US consumers have written a review for a local business – a big jump from 66% in 2019.

Bright Local
But we weren't there yet. I had made the mistake of not creating a culture of asking for reviews yet. It wasn't a deadly mistake yet, but it could have eventually turned into one.
What did we do about our bad review?
We knew we had thousands of loyal church partners and parents who sang our praises. So, we simply reached out and asked them to give us a review on Google.
I know, simple right? It's hard to believe we hadn't done that 10 years ago. Sometimes the important things get overlooked in the midst of the day-to-day.
This is how we made up ground in a pinch and doubled reviews in less than 30 days!

1. We reached out with personal messages
Personal relationships are a huge part of our mission at Snowbird and we work hard to nurture those by genuinely serving others. So, our program director reached out via text and email to some of our pastors, leaders and parents. It's never the wrong time to check in with your customers in a personal way, even if you're asking for a small favor.
2. We added a survey to our website that asked them to fill out a Google review
Then, we added a 1-click survey on our website to ask if our website visitors were enjoying the content there. They were asked to give a simple thumbs-up or thumbs-down, and the thank you screen gave them option to review us on Google.
We were hopeful our website visitors would be willing to spend 30 seconds on a quick review. They didn't disappoint!
3. We sent out a post on our private Facebook group for student pastors
Lastly, we reached out to our private group of student pastors on Facebook. We work really hard to use this group for very little promotional messages, and drive it more toward encouraging resources. Because of this, it's a small but very engaged group of friends and partners.
What were the results?
This simple plan worked wonders for us! We started May 2020 with 21 reviews.
In the next 30 days, we gathered 21 high-quality reviews from loyal church partners and attendees. After that, we let momentum do the rest. Today, 8 months later, we stand at 142 Google reviews and 4.9 stars!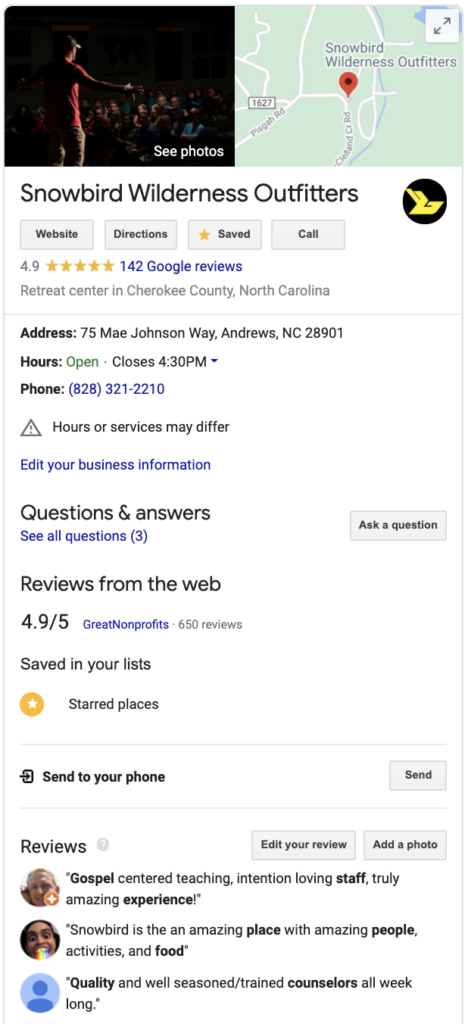 Not too shabby for a few hours of extra work and a few messages to our favorite people.
The strength of a good review doesn't end on Google either. Now, we've got a longer list of testimonial quotes to pull from for website content and social posts if we ever need to freshen things up. The power of social proof is undeniable. It's always better to let someone else praise your business, so that you don't have to.
What did we learn?
Never stop building real relationships with your clients. Make it your job to serve them and help them succeed. They won't forget.
Pay attention to your reviews. You don't want to leave a bad (or good) review lay there dormant and unanswered.
Build a culture of asking for reviews, and tell your staff and customers where to do that (send an easy link).
You need a plan to respond to bad reviews, don't let it become an emergency.
If you build trust by serving your customers really well, they'll pay you back with raving reviews.
Use email automation when it fits, you'll save hours of repetitive work.
What does this mean for your Google reviews?
Don't put yourself in our situation—it's not fun watching your Google review rating drop from 5-star to 3-star in the span of a few minutes. You don't want to get caught with a small number of quality reviews when that first bad review hits your business in front of the world.
Here's the thing, you've got to keep finding ways to make it as easy as possible for your customers to sing your praises. They want to brag on their great decision—show them how!
So, what's your next step? Get started today. There are likely some weak spots in your review-gathering process that need to be patched. Let's be honest, none of us are perfect.
How many reviews do you need?
It depends on your industry and competitors.
Go search your service or offering in Google and see how you rank regarding the number of reviews. Most local businesses don't even ask for reviews so it's a great way to display your reputation among the rest. The more the better!
Imagine if your bike shop had 87 5-star Google reviews from happy cyclists compared to the other shops in town who are stand at 23 reviews. Where will a new family go when they need bikes for their kids?
Start today.
How much would 138 five-star reviews be worth to your business? How much value would that add to your service in the eyes of potential customers? Don't lose momentum when you get done making your customer happy. Give them a quick next-step to share their good experience with others.
You've already got hundreds of happy customers that love your business. Just encourage them to share their experience on the right platform so more of your ideal customers can hear.
Here are a few ways you can get started in the right direction:
Choose the main online platform you want to grow reviews on (Google My Business is a good place to start).
Text or email your last 10 clients and send them a Google link to review your business.
Write out a 2-3 sentence email that you can include in your automated email system. Simply schedule it to go out after you complete service with every new client. Make sure to include your Google review link!
Sitting online with a handful of average reviews isn't fun, but you don't have to stay there.