Let's talk about how to use Google Search Console to improve your SEO and get more organic traffic to your website. Search Console is the most helpful SEO tool available to marketers and business owners.
But it's a little bit overwhelming if you don't know where to start. If you start with these basic tips below, you'll unlock the power of Search Console and get found by people looking for the exact solution you offer. And, sales growth will be right around the corner.
Data is worthless if you don't know how to use it right?
Let's dive in.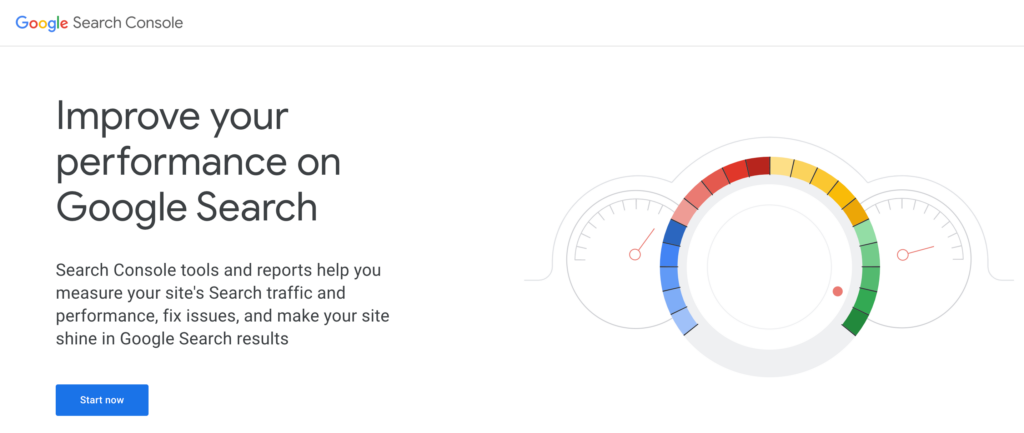 1. Find Out What Keywords Your Site Ranks For
You can use this information to improve the content on your site.
If your site is ranking well for a certain keyword that people are searching, then you can add some helpful sections or pages related to that topic. Or, you might not be getting much traffic for a particular keyword that's important to you. That's a solid signal to write and optimize more content for that topic.
How to find your top keywords.
Go to the Performance report.
"Queries" list will automatically appear.
Set the timeframe you want.
Look for the top keywords that don't include your brand name.
How to find the top keywords for a specific page.
Go to the Performance report.
Choose the "Pages" list.
Click on the page you want to view.
View the searched words (with clicks and impressions).
2. Watch How People Interact With Your Results
Research shows that your click-through rate (CTR) is a major Google ranking factor.
If people aren't clicking on your website in the search results, then Google realizes that it's probably not answering the user's search intent. And, it will show your page less. Getting on page one of Google isn't usually possible unless people are actually clicking into your site and finding what they want.
Three metrics to watch in the Performance report:
Total clicks – Number of times someone clicked on your search results during the selected timeframe.
Total impressions – Number of times someone saw your results in search during the selected timeframe.
Average CTR – Number of clicks divided by the number of impressions.
You can toggle each metric on or off to highlight them on the visual graph. But, make sure you're routinely checking all of them. That will give you the big picture long-term, and make sure the other metrics don't tank while you hyper-focus on one.
Momentum is a powerful thing, so it's important to know if your
3. Find Out Where Your Pages Are Ranking for Specific Keywords
This is the quickest way to find out if your SEO efforts are paying off.
The "Average" position at top of the Performance report isn't always the most helpful info. But, you can filter by page and view your position related to that page (and each keyword). This info is a huge asset when you want to start optimizing a page for a certain keyword or topic.
Now, tell them a quick story or give them a quick example so they can see it in action. What are things like for someone who doesn't do this vs someone who does? What's the mini transformation that can occur?
How to monitor your on-page SEO efforts for specific keywords.
Go to the Performance report.
Choose the "Pages" list.
Choose the page you've been working on.
View your "Position" related to the keyword query for which you're targeting that page.
Take my 6-Day Search Console Crash Course (free) to start implementing your keyword strategy.
4. See How Many Pages of Your Site Are in Google's Index
The Coverage report in Google Search Console will reveal if there are any technical indexing issues with your site. (Pages indexed vs. not indexed)
To be "indexed" simply means that Google has reviewed your page and considers it when showing answers in the public search results.
If your site has 157 posts and 23 pages, you should have close to that many pages indexed. If there are only 7 pages indexed, you have an issue that needs to get fixed.
If your pages are not getting indexed by Google, they won't show in search results.
How to view your indexed pages:
Choose the "Coverage" option in the left menu.
Click the "Valid" tab.
See the growth or decline of your correctly indexed pages.
There are several potential errors that Search Console might reveal. Here are a few things to keep in mind:
You might not want all of your pages to be indexed. For instance, coupon code pages, temporary landing pages, etc. Make sure these are added to your Robots.txt file. Yoast and Rank Math make great plugins for this if you're using WordPress.
It's worth contacting a professional developer or SEO consultant for most technical issues is worth considering. This area of your website can quickly tank your reputation with Google when approached without the right knowledge and experience.
5. Submit a Page for Indexing
The "URL Inspection" tool is the quickest way to submit a page to Google if you find that it's not been indexed.
You can also speed up your potential SEO ranking on a new page or post by requesting it to be indexed right after publishing. Google can review it right away and start showing it in search results.
How to submit a page to be indexed:
Choose the "URL Inspection" option on the left menu.
Paste the page's URL in the top bar and confirm for Google to test it.
If it passes the initial test, click "Request Indexing".
6. Submit Your XML Sitemap
Your XML sitemap is a crucial file you need to periodically submit to Google.
This is a roadmap of your website and is built to help Google (and other search engines) learn how to understand your site content correctly. There are likely many subpages on your site underneath the main parent pages.
For example, your staff, history and mission pages will likely be under an "About" parent page. Google needs to be told to prioritize that primary About page first. And then, crawl the staff and history pages after it already has that earlier data.
Thankfully, there's a quick and easy to do that in Search Console.
How to submit your XML sitemap in Search Console:
Choose "Sitemaps".
Paste in the URL of your sitemap.
Click "Submit".
7. Make Sure Your Pages Are Mobile-Friendly
Google has been implementing its mobile-first indexing over the past decade, so you don't want to be the last one joining the mobile website party.
Other Google tools can do the same thing, but they've now included a quick tool to check your mobile friendliness right in Search Console. It will help make sure your pages are quick to load, easy to read, and not a pain to scroll over the content.
This toolbox is growing more helpful every year!
How to check your mobile friendliness in Search Console:
Click the "Mobile Usability" option in the left menu.
View any errors.
Review each page error and start fixing them. (ASAP)
8. See What Other Sites Have Linked to Your Site
Backlinks are a major ranking factor for Google and other search engines.
This is how Google finds out how much the actual public trusts your content. If other websites use you as a resource, your authority level goes up a significant notch in the Google ranks. This is especially true if high-quality sites in your industry start trusting and sharing your website content.
Thankfully, Google Search Console gives us a quick way to find out what websites currently link to your site.
How to view what other sites link to your website:
Choose the "Links" report on the left menu.
Click on "More" under the "Top linking sites" to view your list of incoming backlinks.
9. See if Your Site Has Any Penalties
Yep, the game of digital marketing has penalties too.
Thankfully, Google likes to show you what they are and give you a chance to redeem your website from the dumps quickly. You just need to play by their rules and let them know when you're ready for them to review your updates.
How to find any existing penalties in Search Console:
Find the "Manual actions" and "Security issues" options in the left-hand menu. Click in to review each and follow Google's direction links to bring your site back in line with good web practices.
10. Track Local Keyword Performance
A Local SEO Kickstart might be your most crucial marketing strategy if you're a local service provider or brick-and-mortar business.
Build out a service page focused on a local keyword, like these examples below:
Asheville SEO consultant
Plumber in Jackson
Chicago commercial attorney
Searching the term in Google.com beforehand will give you a good idea of your competition — and the type of content that meets the search intent.
Then, give your new service page 10 days and check your status in Search Console. If your website is healthy, and your business is already established in the area, then your local keyword page should slowly start climbing the search rankings.
Find out what terms people are searching for when they find (and click) on your page — then slowly improve that page with more specific and clear content over time.
Use Google Search Console to learn more about your audience.
Dropping into Search Console can feel like a candy store of SEO data. I get it! But never forget that your primary goal is to learn what goals, ambitions, and pain points drive your ideal customers.
If you've been in business for more than a year, you already know your clients pretty well. Now you've got the data to back up your marketing decisions!