This week, I'm going to show you how to make sure you don't lose all your SEO momentum when updating your website.
There are many valid reasons your website might need a complete refresh, but you don't want to rush into a project like this without a clear plan. If you don't take the right steps to register your changes, with search engines, then you could easily lose all your search traffic in one fell swoop.
Unfortunately, most business owners and web designers don't know how to avoid losing SEO traction.
Most people don't know the right steps to notify search engines when refreshing their website.
They assume Google makes them start from scratch, with no better option.
They think Google robots will automatically understand the new website is of higher quality than the old one.
They forget to prioritize the site structure and optimize the content.
They forget to create redirects for top-ranking pages.
Don't worry. Here is the exact process I follow every time I redesign a client's site — and help their site build more authority (and visits) from Google.
Here's how, step-by-step:
1 – Audit your current website to understand its strengths & weaknesses.
You've got to start with a clear benchmark of your current site, so you improve your SEO at the same time.
Here are some of the main areas you need to review:
Site structure
Create an outline of every page on your site, and note how they are currently grouped. A simple Google Doc with bullet point formatting is all you need.
Site speed & Mobile friendliness
Use Google Search Console to check and record any technical issues that might be hampering your visitors' experience. Take notes (or screenshots) of your Page Experience, Core Web Vitals, and Mobile Usability scores.
Header & Footer menus
Take screenshots, and list out what pages are included in your header and footer (including how they are named). These are two of the most important areas since they are included on every single page of your site.
Current SEO rankings & visits
Open Google Search Console and export your current Search Results. This will show you what queries (keywords) and pages are driving your growth in organic search right now. Search Console also provides your average position on this export as well, to show where you stand related to competitors.
On-page optimization
Review your top 20 pages (via search traffic) and note how well they engage the primary topic keyword. Hopefully, these will be your homepage, sales pages, and a few strong blog posts. There will likely be key written sections, videos, or images you will want to keep on the page when transitioning to the new site.
This process will uncover hidden strengths your current website has, so make sure you carry those over to the new website as well. You'll also find new SEO opportunities become way more clear.
2 – Implement a thorough SEO strategy on your staging site.
Most web designers don't know how to implement a clear SEO strategy on your website. And, execution is everything in marketing.
Most web design refreshes start from a goal to improve the visual design. That's a great reason to redesign your site, but you can't lose focus on your organic search traffic and conversions (sales). A beautiful website design can tank your company if it doesn't keep driving leads and sales.
Here are a few quick areas you should hyper-focus on: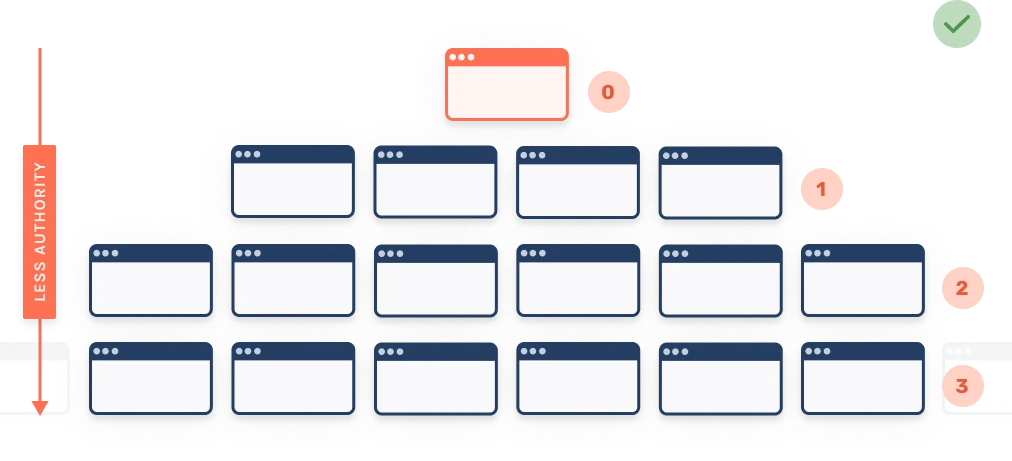 Flat Site Structure
Start with a really clear and simple site structure. No page on your site should be more than 3-4 clicks away from your homepage (if you want search traffic to the page).
Optimize Your Header
Keep your pillar pages (highest priority pages) in the header of your site. And, possibly the footer. Keep distracting links, like social media icons, only in the footer.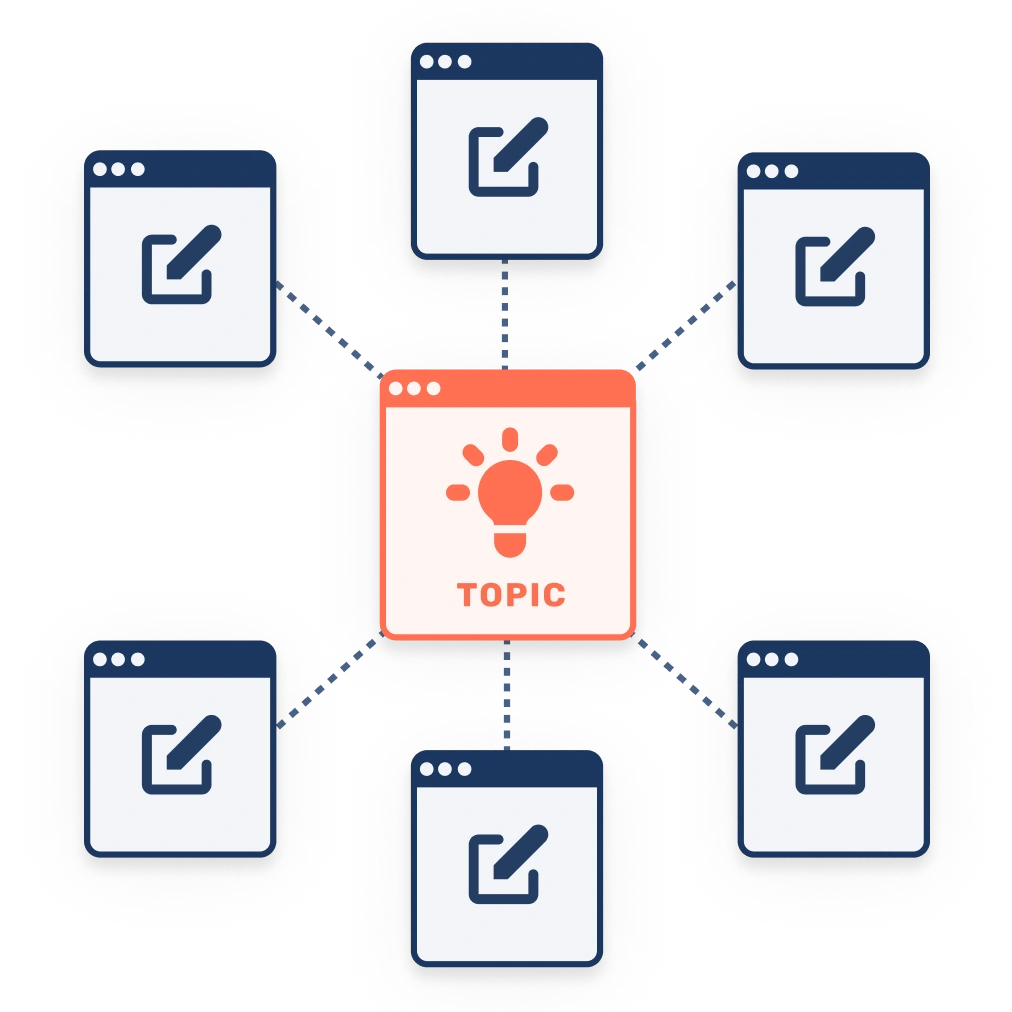 Internal Linking
Use internal linking to guide visitors toward a related pillar page, when they enter the site via a secondary page. If your site has lost of blog or podcast content, use a topic cluster strategy to point visitors toward your best (and most complete) article on your primary topic.
One Keyword Topic Per Page
Choose one priority keyword for each page on the site. Then, make sure no keywords are duplicated (competing with each other).
Simple SEO Plugin (if using WordPress)
Use a basic and free SEO plugin, like Rank Math, to set up things like your meta descriptions and title tags for every page. You might have the opportunity to export and carry over your current title tags and meta descriptions.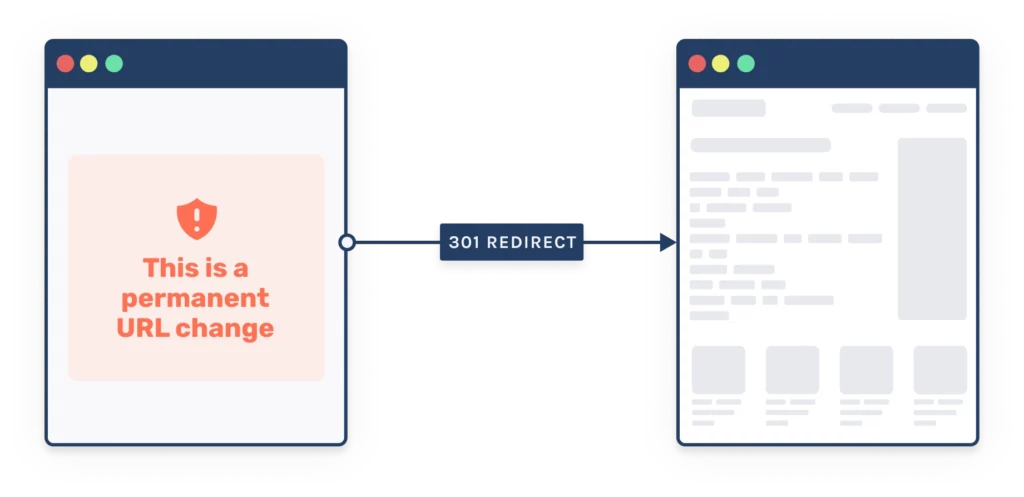 301 Redirects
Set up a 301 redirect anytime you change the URL link for a website page. You can do this quickly in Rank Math.
Use Robots.txt to Ignore Low-Quality Pages
Use a Robots.txt file to help search engines skip any pages you don't want to be found in the SERPs (search engine results pages). That will help raise the overall quality of your site from Google's perspective.
Compress Images
Compress your images with TinyPNG.
Compress Coding
Speed up your javascript, lazy image loading, and other technical stuff with a helpful plugin like WP Rocket or Autoptimize.
Check Your Links
Double-check (and triple-check) your links, contact us form, and everything else your visitors will be using. There's nothing more embarrassing than a website doesn't work right? Bad links will chase away potential clients (and search engines).
Invest in High-Quality WordPress Hosting
And, as always, make sure you're using a high-quality hosting platform like Flywheel or WP Engine. You don't want slow hosting speeds or non-existent customer service to ruin your marketing investment.
3 – Launch and promote your new website.
Now, it's time to launch your stunning new site!
If you've followed a methodical website transition, then you can have strong your new site will both look great and drive new business growth.
After publishing the site, you'll want to have 2-3 people review the site personally and run it through some tests.
Publish the new site by connecting it to your domain. I recommend launching your site on a day when you're not slammed with meetings or travel. You'll want full flexibility to troubleshoot any issues that arise.
Re-Connect Google Search Console
Connect Google Search Console to the new site (if you've built it on a new CMS platform or dashboard).
Submit your new XML sitemap in Google Search Console. You can grab that from the Rank Math plugin.
Review your Page Experience ratings. Speed and mobile friendliness is a big deal, especially since when 62% of internet traffic comes from mobile devices.
Drop into the URL Inspection tool, and "request indexing" on your homepage and all pillar pages (and any other new links).
Technical Audit via Ahrefs Webmaster Tools
Hop over to Ahrefs Webmaster Tools and run a free audit on your new site. Fix any issues you find ASAP.
Brag on Your New Website
Have some fun by announcing it to the world! Take advantage of all the hard work you've spent planning and preparing — by talking about it.
This is especially important if you've built in a new resource or tool that will add value to others.
Email your clients and customers. Reach out to your business network, friends, and family to share your excitement. They'll join your excitement and likely share the website somewhere online.
4 – Invest in ongoing SEO efforts.
There is light at the end of the tunnel. Every new website hits a 2-3 month lull in search traffic. So, you'll need to expect that. But search engine robots will quickly understand and review your website after that.
You'll want to keep reviewing your data in Google Search Console every few weeks, but don't make any sudden moves. Let your site fight for itself, and slowly keep publishing new content that meets the search intent of your ideal clients. Answer their questions, solve their pain points, and earn their trust one page at a time.
Now it's off to the races! You've got a brand new race car (website) that looks good, runs like a top, and is easier for your visitors to use.
Start Today With an SEO Assessment
Want help finding those hidden issues that are losing trust with Google (and potential clients)? Check out my 7-day SEO Assessment. I'll prepare an actionable review and SEO roadmap that highlights your quick wins and top priorities.
Your SEO Assessment report will land in your inbox in 7 days and we'll hop on a focused strategy call to give you a roadmap for digital marketing success.
This article contains some affiliate links, which means I make a small commission at no extra cost to you if you click through and make a purchase. Thanks for your support—I only recommend tools and products I have tested and used personally.