If you're a local business of any type, then you need to display your opening hours on Google on your Google Business Profile (formerly Google My Business). Future customers will view this business profile on Google search and Google Maps. Here's how to update your business hours on Google in 7 easy steps (2 minutes).
Have you ever followed Google Maps to a favorite restaurant or retail store—but realized they were closed? Usually, by then, you've sucked up all your spare time just driving across town and don't have time to find another option.
Doesn't want to make you trust their business listing the next time around, does it?
Why You Should Keep Your Business Hours Current
If you want to earn the trust of potential customers on Google Search and Maps, then it's crucial to keep your online listings current. That means your business address, hours of operation, phone number, and similar business info need regular updates.
Every great Local SEO strategy starts with serving people well. So, if you deliver a great online experience, then your search engine rankings are likely to reflect that positive growth. Here are a few benefits of keeping your Google Business account in tip-top shape:
Get discovered
Further your reach
Drive leads
Attract customers
Improve your SEO
Boost exposure
Your objective is to provide Google with the most precise information for your Google Business listing. You can make updates today based on your current plans and make changes as your business needs evolve.
How to Update Your Business Hours on Google:
Step 1. Sign in to Your Google My Business Account
First, make sure you're using the Google account attached to the Google account that is the primary owner of the Google Business Profile.
Then search your business name on google.com. Yep, just "google" your company name. Make sure to look for the exact name used in your Google Profile. I've run across companies that didn't show up when I left off a word or two.
If you're logged into the primary ownership account, then your business dashboard will now be visible.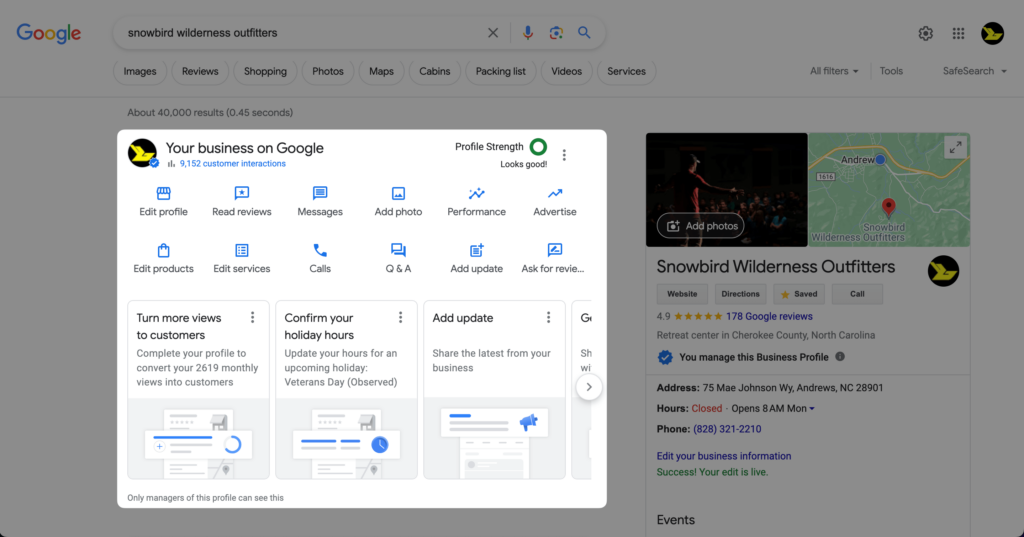 Step 2: Click on "Edit Profile"
Click the top-left icon in your Google Business menu.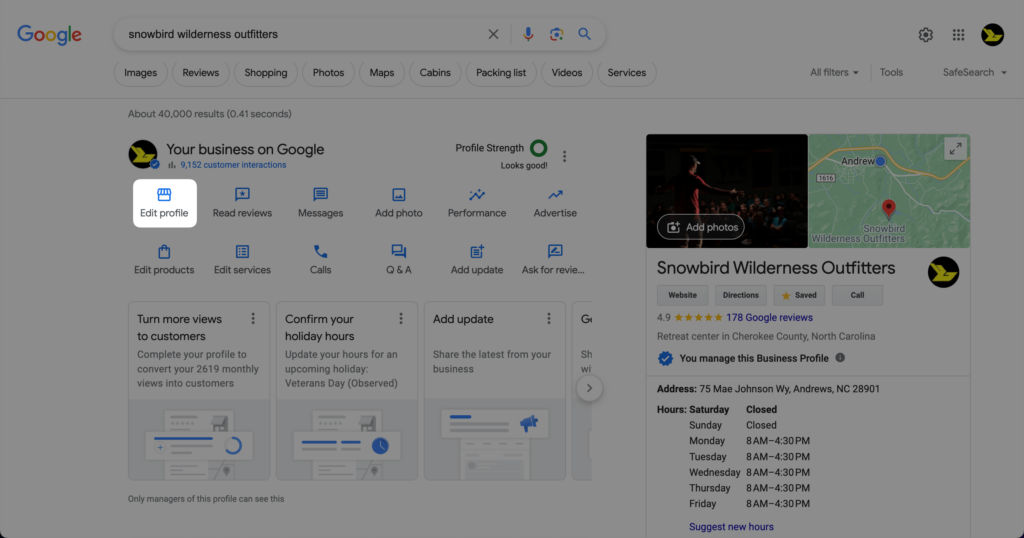 Step 3: Select "Hours" in the Pop-up Window
Choose the "hours" option in the top menu that pops up, and you'll land right where you need to go.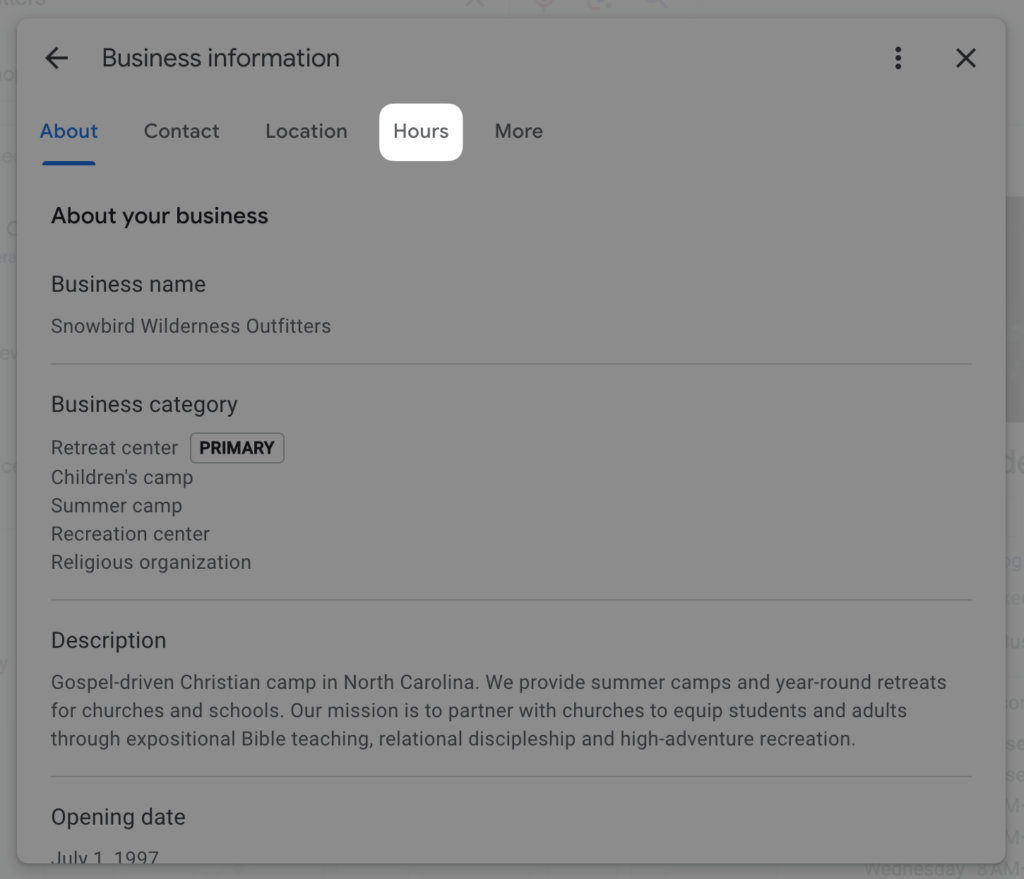 Step 4: Choose the Pencil Icon to Update Your Hours
Use this option if you want to change your regular business hours.
For example, if you are going to start opening later every Monday (and add more hours on Saturdays) then this is the section you want to use.
If you already have business hours listed in your Google Business profile, then the option of "Open with main hours" is likely already selected. That's perfect. Leave it as-is and adjust the day and hours as needed.
You can also choose to show your business as "Open with no main hours" if you prefer to show yourself as open 24/7.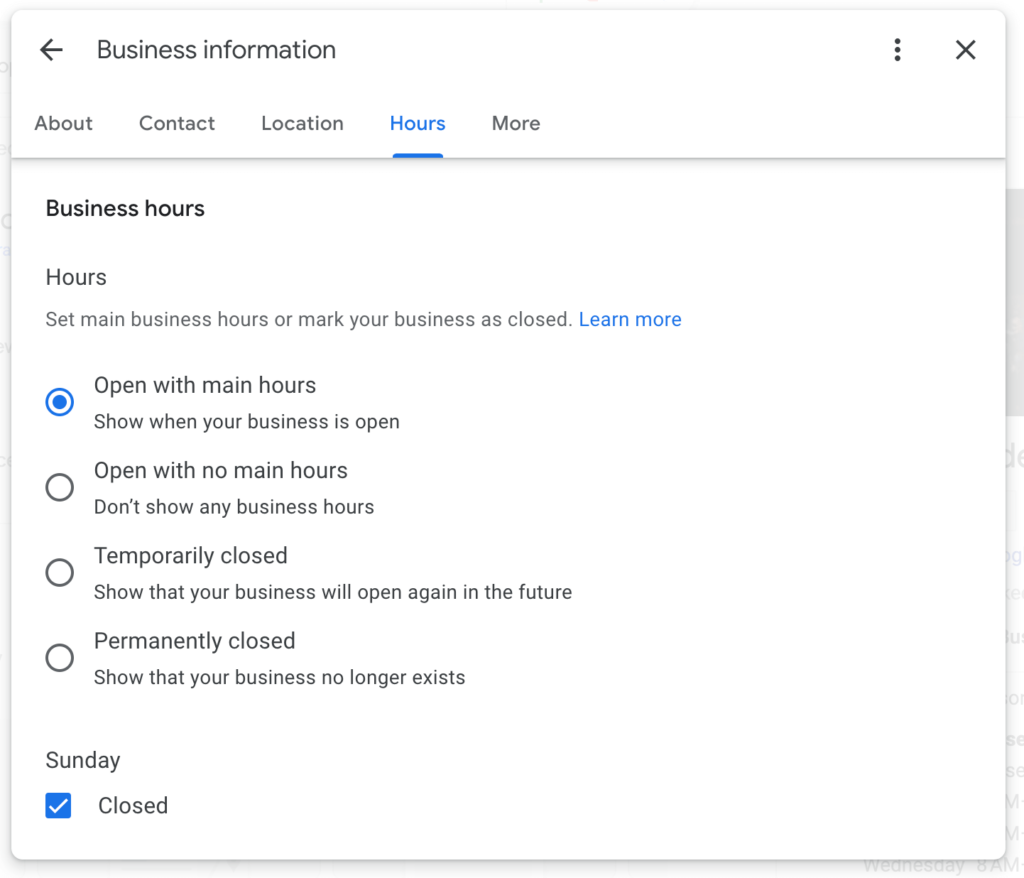 If you just want to change hours for a single day (such as a holiday), then keep reading below:
Review and confirm your "Holiday Hours"
Thankfully, Google offers a quick way to review your hours for upcoming holidays. If you're like me, then you live and die by calendar reminders!
In this image below, I've chosen to mark Snowbird closed on both Thanksgiving and Black Friday.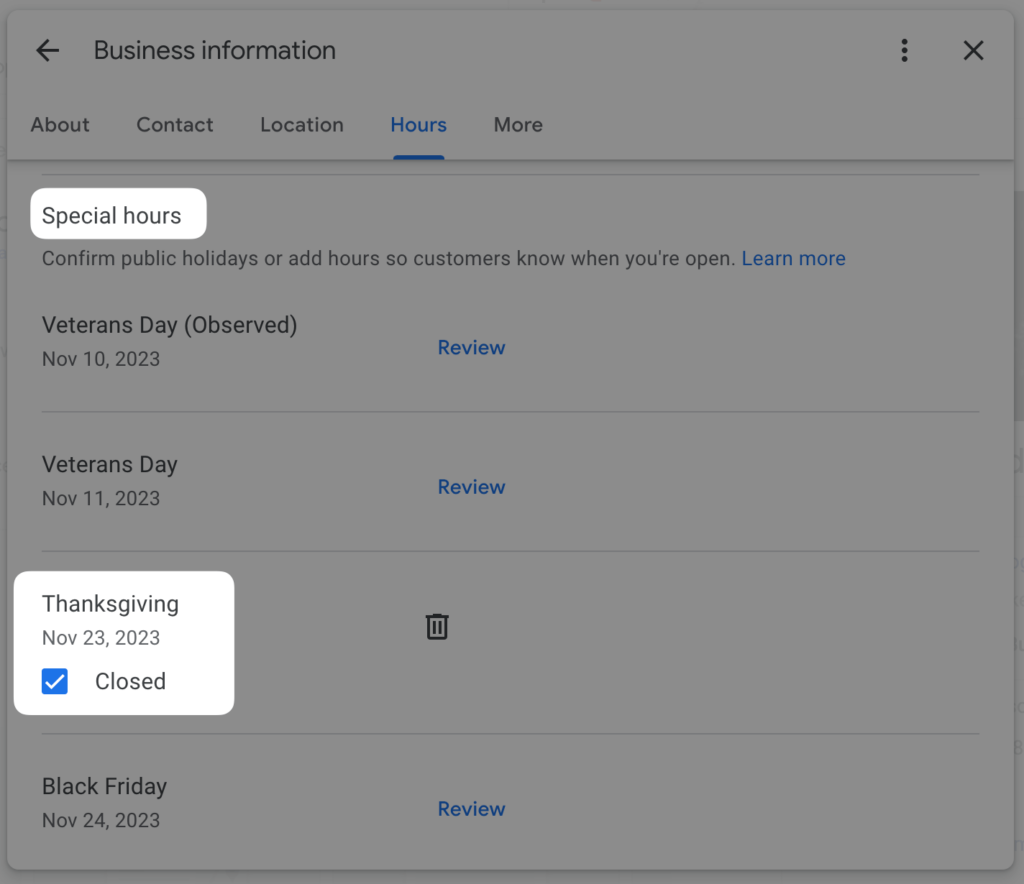 This way, the update won't affect the regular Thursday and Friday hours.
Or, choose to "Add More" for Special Hours
You also have the option to offer special hours on your Google Business profile.
If you're a restaurant that only offers delivery or a drive-through during certain hours, this will be extremely helpful. Or, if you're a local retail store, you might want to only offer "in-store pickup" during certain hours or days of the week.
Here are Google's unique options provided in 2023 — breakfast, lunch, dinner, delivery, drive-through, online service hours, pickup, and senior hours.
Step 6: Click to "Save" Your Updated Hours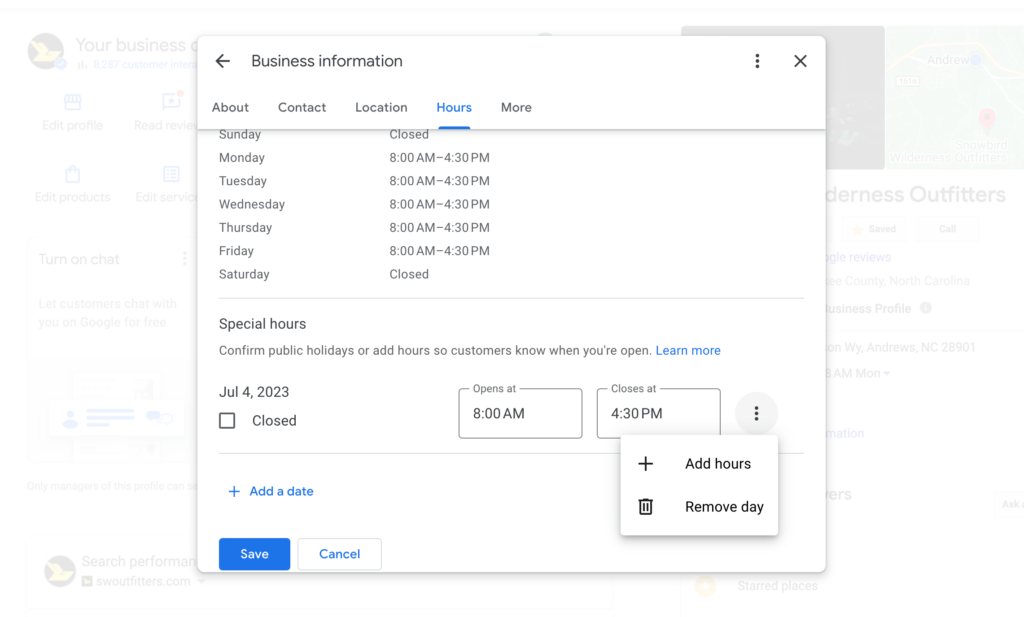 Step 7: Confirm the New Hours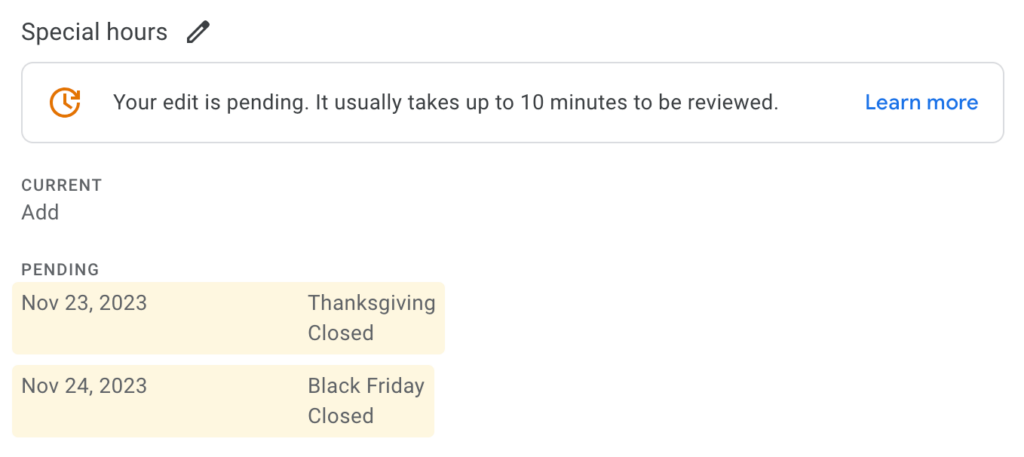 How to Update Your Business Hours Using the Google Maps Mobile App
Google has given local business owners a great new feature in the Google Maps app. If you're logged into the Google profile for your business, then you can access and edit all of your Google Business profile info right there.
Simple choose the far right icon at the bottom of your screen while in Google Maps, on the "Business" option. Then click the "edit profile" with the pencil icon, and you can follow these same directions (above) right from your mobile device.
Don't Forget to Update Your Other Business Listings
Apple Business provides similar options for your business hours. Every new iPhone comes with Apple Maps already activated, so you'll want to keep your Apple users in the loop as well.
Click here to learn how to setup (and edit) your Apple Business listing.
Need a Hand Managing Your Google Business Profile?
We save local service companies countless hours of work by optimizing and managing their Google Business profiles. But, you already know it takes more than changing your hours of operation on Google to attract new leads. Ragon Creative has the local SEO experience (and strategic process) needed to make sure your digital presence is growing your reach!
Ready to start growing your local business?
Learn more about our Google My Business Optimization service.