Monthly SEO Services
Consistent progress is your path to growth.
Your business needs steady effort to excel in organic search. Search engine optimization is not "set it and forget it."
Google and other search engines evolve, just like your business. Some SEO tactics need to be applied on an ongoing basis — link building and content creation, for example. Monthly SEO efforts enable us to find new opportunities for your website to grow and attract your ideal clients.
John has been writing SEO-optimized blog posts for us, which have become some of the highest-performing pages on the website. The level of research and effort that John puts into his work is impressive. He is one of those rare people who actually makes my job a lot easier because he's so good at his!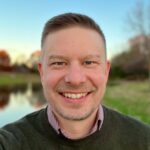 Ethan Anderson
Agency owner, Big Imprint
My Monthly SEO packages include three services for clients:
Reporting — A custom monthly report delivered in PDF form to your inbox.

Communication — Ongoing communication and collaboration, typically via a monthly/weekly phone call and regular emails.

Action Items — Tasks that progress towards the strategy and campaign goals. Examples of action items include keyword research, creating an XML sitemap, updating title tags and meta descriptions, and more.
Each package tier includes a different amount of time dedicated to action items. Clients can move freely between these tiers of service (upgrade or downgrade) from month to month.
Awareness — This tier is for those just getting started with SEO. Designed to build awareness around your brand in the search engines and within your team on how search engine optimization works.
Action — This tier is a results-oriented campaign designed to grow your organic search traffic. With the Action plan, we are able to complete more action items more quickly and thus deliver stronger results.
Accelerative — This tier is a fast-paced SEO initiative designed for those who want to achieve next year's results — this year.
Awareness
Maintain your progress & learn.
Reporting
Technical SEO
Content strategy + feedback
On-Site SEO
Off-Site SEO Strategy
Action
Grow your business—consistently.
Reporting
Technical SEO
Content Strategy
1 New Post or Page per Month
On-Site SEO
Off-Site SEO Strategy
Local Search
Accelerative
Get tomorrow's results—today.
Reporting
Technical SEO
Content Strategy
2 New Posts or Pages per Month
On-Site SEO
Off-Site SEO Strategy
Local Search + Link Building
FAQ's
What's included with a "blog post" or "page"?

Since I've got nearly 10 years managing websites for business owners and non-profits, you get much more than just a simple blog draft. My SEO content clients get a complete blog package, including a full review/edit process, formatting and basic image layout, and placement on your website (content management system).

That means you get a full article published on your website—that's written for both humans and Google.

Here's a summary of the details. 👇

Topical SEO Research – Choosing the right topic, that fits your ideal client, takes more than a few Google searches. I'll collaborate with your team, scour Ahrefs, and research your target audience—then pitch a few topic ideas in syour direction.
Draft article – After the topic is approved by your team, I'll get busy writing a 1,000-1,500 word draft for your review. Whenever possible, your draft will include related images and video embeds to give your readers multiple ways to engage with your content.
Your Review – Nothing gets published until you're 100% satisfied with the blog article. So, we'll spend a little bit of time making sure the content is accurate for your industry and hits all the right marks to get traction online.
SEO Optimization – While your team reviews the written content, I'll be hard at work finishing all the on-page SEO details like the title tag, meta description, and image alt tags. Readability is a major need (for humans and robots), so the article layout will use various types of H2-H5 subheads, numbers, and bullet points to keep things easy to read.
Publish final article – Your final, approved article will get published on your website by the end of the designated month. I'll also alert Google Search Console, Bing, and other search index tools of your new content.

These regular blog articles are generally targeted toward potential buyers—in the bottom- or mid-funnel buying stage. So, when they find your article on Google, we can be certain they are already looking for what you offer.

These longer-form content pieces will supply your social media team with a steady flow of content for short-form platforms like Twitter, Instagram, or LinkedIn.
When will I see results?

I'll provide you with the right skills, processes, and tools, to empower you to take ownership of your search engine results. How quickly will you see success? That depends on you and your business. Initial results are typically seen in 1-2 months, but it might take longer before your new client leads convert into paying clients and customers.

Several factors can influence the speed of results:

Industry – Some industries are more competitive, so your results take more time.
Commitment – The amount of energy and effort you contribute will directly impact how quickly you see results.
Iterative – My process (and SEO in general) is iterative. It's not just about how quickly you move—this is a longer-term strategy. We'll learn what works for your business, and do more of that. My average customer sees initial results after several weeks and even better results appear downstream. The results continue to compound over time.
I've never invested in SEO before. How can I start with a strong foundation?

Good question! I only provide monthly SEO services for clients after they have completed one of my foundational plans — the 8-Week SEO QuickStart or the 4-Week Local SEO Kickstart. You're going to need a strong footing to kick things off with, and the Monthly SEO plans will help build on that momentum (right past your competitors).
Doesn't SEO always change? How can I stay on top of it?

Some SEO tactics do evolve, but the foundational principles remain steady. I'm here to be your partner and guide. I'll keep you up-to-date on current best practices during the entirety of your SEO package. And, you'll get follow-up reports and roadmap guides for the next steps.

I stay current and integrate any new changes into my SEO processes. You'll also get direct access to The Friday Focus, a weekly newsletter that outlines useful digital marketing tips every Friday.